Kanye West New Album: Track List, Guest Artists and Release Date for 'Waves,' aka 'Swish'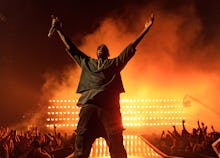 Christopher Polk/Getty Images
Powerhouse rapper Kanye West threw fans for a loop Tuesday when the recording artist posted a series of tweets that rebrand his upcoming album, an effort which was expected to be titled Swish. According to West, the record will now be called Waves, which is supposedly one of the tracks fans can expect to see on the Chicago-bred artist's seventh studio album. The upcoming record, "formally known as Swish," is expected to drop Feb. 11.
Earlier this week, West posted a picture of a notepad with what looked to be a hand-written track list for the recording artist's forthcoming effort. On Tuesday West posted a photo of what appeared to be a revised version of the track list, with more than one celebrity cameo in the form of signatures. 
Read more:
"So happy to be done with the best album of all time," West captioned his first track list photo. "New album title, Waves," he added in a tweet on Tuesday. The reworked track list includes signatures from rapper ASAP Rocky in addition to hip-hop artist Swizz Beatz, which could signal the recording artists' respective contributions to the making of the LP.
Vic Mensa and Sia appear on the album's "Wolves," Ty Dolla Sign appears on "Real Friends" and "No More Parties in LA" features Kendrick Lamar. Reality TV star and West's wife Kim Kardashian West also signed the bottom of the page. 
Before
After
Though somewhat illegible (a factor users on Twitters were none too pleased nor kind about), the updated track list appears to divide the album into three acts in addition to clarifying that the second cut will be a two-part effort. An 11th track, titled "Ultra Light Beam," has also allegedly been added to West's upcoming LP.
Waves track list:
1. "Nina Chop"
2. "Father Stretch My Hands Pt. 1 & Pt. 2"
3. "Waves"
4. "High Lights"
5. "30 Hours"
6. "No More Parties in LA"
7. "Fade"
8. "FML"
9. "Real Friends"
10. "Wolves"
11. "Ultra Light Beam"
Here are three singles — "Facts," "Real Friends" and "No More Parties in LA feat. Kendrick Lamar" — that West has released and shared on SoundCloud.
Source: SoundCloud
Source: SoundCloud
Source: SoundCloud
To say this album is a long time coming would be to understate the point. West first announced word of the project, his first full-length endeavor since 2013's Yeezus, in 2014. This also isn't the first time West has retitled the record. When news first surfaced of an album in the works, West revealed that the LP would be titled So Help Me God. 
Despite the back-and-forth, it appears that West is as confident as ever in what he's achieved on his upcoming LP. On Tuesday the artist also added a qualifier to the project when he wrote in a tweet, "This is not the album of the year. This is the album of the life."
With the estimated release date fast approaching, it's unlikely West would rename the album yet again — though if he did, it may not come as a shock to fans who've been tracking the album and have come to expect the unexpected.
Correction: Jan. 27, 2016