These Are the Racist Facebook Posts That Got Georgia Official Jeremy Spencer Fired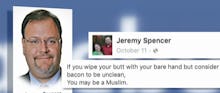 Most people are well aware that privacy on social media is precarious. One high-ranking official in Georgia's Department of Education, however, apparently never got the memo. Jeremy Spencer, the state's associate superintendent of virtual instruction, was fired Tuesday after other state officials formally complained about Spencer's use of Facebook to proliferate discriminatory, offensive beliefs, Mashable reported Wednesday.
Maureen Downey, an education writer for the Atlanta Journal-Constitution, managed to screen shot and publish several examples on the newspaper's website. Downey noted that the full range of Spencer's offensive posts encompassed an impressive variety of topics, including "minorities, guns, deportation of immigrants, Ted Cruz and Donald Trump."
"If I read one more thing about the Finland educational system," Spencer wrote in one Jan. 1 post, presumably in response to reports of Finland's educational success. "Not everybody in the U.S. public schools are white!"
Spencer praised comedian Jeff Foxworthy's derogative comment about Muslims and also failed to remove an image of a lynched black man a friend published in response to one of his comments. 
Even when not blatantly racist, some of the education official's claims were clearly rooted in willful ignorance.
"As the Black Lives movement gains in influence, what we need to be reminded of is this group is angry over failed leftist policies that have let them down, not the police," Spencer wrote, also on Jan. 1. "What they really want is smaller government in their lives."
Spencer's actions were not just offensive to his Facebook friends, many of whom are also state officials, but also violated the Georgia Professional Standards Commission's Code of Ethics, according to ABC. On Tuesday, Georgia Schools Superintendent Richard Woods officially deemed these actions unacceptable and facilitated Spencer's resignation.
"Like most people, I was disheartened and disgusted to see the posts made by Mr. Spencer on his Facebook page," Woods said, according to Downey. "These posts in no way reflect my opinions, or those of the Department of Education."
As Bryan Long of the progressive watchdog group Better Georgia concluded to ABC, "freedom of speech doesn't come with freedom from consequences."
h/t Mashable