Rihanna Releases the First Single From 'Anti,' "Work" Featuring Drake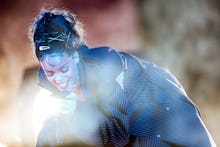 Long after some fans had given up hope that Rihanna's Anti would ever drop, the Queen returns in blaze of lo-fi Caribbean glory.
Wednesday, Rihanna dropped what she's described as the "first single" from Anti in a tweet. The song, titled "Work," features a sung verse from OVO rapper Drake. Unfortunately, as of now, it can only be listened to through Tidal. Mercifully, Tidal owner Jay-Z is allowing those who haven't joined his streaming revolution the chance to stream the song on their homepage.
Rihanna adopts a thick patois accent to talk about that all-consuming need to get down in the trenches and do work. Drake's winds it back saying she needs to get done so they can spend some time together. Fans waiting on Anti all throughout 2015 will likely agree with Drake, even though all that work is finally coming together into an album.
Speculation about this particular collaboration has been churning all month after the two were spotted reportedly filming a video at Eagle Rock Plaza in Los Angeles. Members of Rihanna's navy dug up pictures of an alleged casting call, looking for horseback riders, undercover cops and young men and women with a "grime look." Others shared pictures of handlers leading said horses into said mall.
The video is still forthcoming, but the song itself is a breath of fresh air for all those tiring of the bait and switch of Rihanna's Anti campaign. For the past two months, Rihanna has been teasing fans about an imminent drop through a virtual reality Samsung campaign, while actively seeking out new songs through artists like Sia. 
The fact Rihanna is calling "Work" her "first single" suggests all of her previous singles — "Bitch Better Have My Money," "American Oxygen" and "FourFiveSeconds" — won't be making the album.
Yet all that mess may be behind us now. Anti is really coming. Brace yourself.
Jan 27, 2016, 11:04 a.m. Eastern: This story has been updated.