A Musician Stayed Awake and Played Guitar Throughout His Own Brain Surgery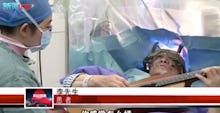 Imagine being told to stay awake during your own brain surgery. And play a musical instrument.
It's frightening, but exactly what happened to a musician in China who was recently required to play the guitar throughout his own brain surgery, Mashable reports. 
The musician, identified by the Chinese press as "Mr. Li," according to Mashable, had had a rare neurological condition called musician's dystonia. The disease's symptoms include "involuntary, prolonged muscle contractions, which cause affected parts of the body to be twisted into abnormal postures," according to the Dystonia Society, and it is estimated to occur in up to 2% of all professional musicians.
For Li, who has had the disease since the 1990s, stiffness occurred in his fingers, and could not be treated with medication, according to China Daily.
Surgeon Cai Xiaodong reportedly asked Li to remain awake and play the guitar throughout the operation on Jan. 25 in Shenzhen, a city in China's Guandong Province. While Li played his guitar, Xiaodong implanted electrodes in Li's brain, which will stimulate the neurons controlling the movement of his fingers. Batteries implanted in Li's shoulder will keep the electrodes charged for around 10 years.
If Li's story sounds familiar, it's because he isn't the first patient to play the guitar during brain surgery. 
In 2013, a U.S. man played the guitar during brain surgery to treat his Parkinson's disease. And in June, a man in Brazil strummed the Beatles song "Yesterday" as surgeons removed a tumor from his skull.
Patients have played other instruments during brain surgery, too.
In December, doctors in Spain requested their patient play his saxophone during surgery to make sure the removal of a tumor had not altered his brain function.
As for Li, it sounds like he still has plenty of guitar-playing days ahead of him. "The operation was completed successfully, and the musician's right hand was back to normal again," China Daily reported.
h/t Mashable