Rihanna Releases "Work" Featuring Drake, Lyrics and Meaning for New 'Anti' Single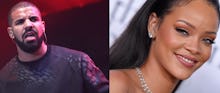 Mic/AP
While the East Coast was waking up for their Wednesday morning commute, Rihanna was working on a major comeback with her latest track from Anti, featuring Drake. "Work" premiered across several international radio stations Wednesday morning, including New York's Top 40 station Z100 and the U.K's popular CapitalFM. 
Rihanna and Drake's latest single offers some slight caribbean influences, a standard hip-hop beat and a synthesized hook. The lyrics center around a struggling relationship in which Rihanna is vying for the love and affection of her partner.
"Work" began streaming via Jay Z's content streaming service Tidal as of Wednesday morning. The song can be streamed via Tidal's homepage without an account, and can also be purchased on Tidal for $1.29 without an active subscription, though fans will need to create an account in order to access and download their purchased music.
Read more:
Below are the lyrics, provided by RapGenius:
"Work, work, work, work, work, work, work / You see me I be work, work, work, work, work, work, work / You see me do me dirt, work, work, work, work, work, work / When you gonna learn, learn, learn, learn, learn? / Join me I deserve it, duh, duh, duh, duh / The way you uh, uh, uh, uh / Before the tables turned, turned, turned, turned, turned / Join me I deserved it, no time to have you lurking / I never doubt you were the nicest, nobody touch me I'm the righteous / Nobody text me in a crisis, you took my heart off my sleeve / You mistaken my love I brought for you into foundation / You give me something that I've never had / Something that you've never seen, something that you've never been / Just see me and work, work, work."
It's safe to say the new release quenched the Barbadian recording artist's "Navy," which has been thirsty for new music ever since RiRi broke her silence on Twitter Monday morning.