What Happened to Jason Wilkes on 'Agent Carter'? Here's What We Learned in Episode 3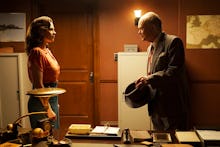 Richard Cartwright/Getty Images
Tuesday night's episode of Marvel's Agent Carter marked the third episode of the second season, which kicked off last week and is set in Los Angeles in the 1940s. The episode, titled "Better Angels," opens with protagonist Peggy Carter, played by Hayley Atwell, and fellow agent Daniel Sousa, played by Enver Gjokaj, investigating the home of Isodyne Energy scientist Jason Wilkes, played by Reggie Austin. Wilkes allegedly died in the season two premiere while working on creating a device to contain the powerful Zero Matter.
"Better Angels"' main plot twist is one that audiences expected, according to Vulture: Wilkes is not dead or gone from the show, rather he's rendered invisible by the chain reaction. His physical presence has been pushed into another plane of reality. Luckily, a special spray from billionaire — and father to Iron Man — Howard Stark, played by Dominic Cooper, can reveal Wilkes. Wilkes' false alarm puts him in the center of attention, as flirtation between Wilkes and Carter continues and Stark vows to get Wilkes home safely.
Read more:
Evidence that Wilkes is involved with the Soviets was allegedly planted in his home, so the invisibility may come in handy. Or, it could be that he's actually a traitor, which is what happens in the comics.
Aside from Wilkes' story line, Carter gets better acquainted with her enemies for the season from the evil organization Isodyne, and audiences learn that the sketchy Arena Club's Council of Nine from the season premiere is sneakily helping the high-powered businessman Calvin Chadwick win his campaign for senator. 
Chadwick's wife is the cunning actress Whitney Frost, played by Wynn Everett, whose evil powers grow so strongly in this episode that she actually kills her misogynistic director. Her powers are marked by a growing black scar on her forehead, which could become a disadvantage to her acting career. Frost is one step closer to becoming supervillain Madame Masque.
h/t Vulture