Gabrielle Union Asks #WhoIsStaceyDash and Twitter Is Feeling It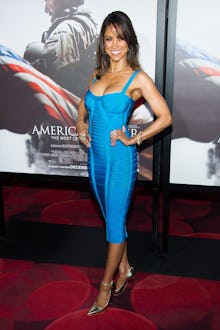 Charles Sykes/AP
Several celebrities and BET itself responded critically to actress and Fox commentator Stacey Dash's light suggestion to get rid of Black History Month and the BET Awards last week. The latest response from Gabrielle Union is Twitter's favorite: "Who is that?"
"Who is that?" Union joked to an interviewer Tuesday at the Sundance Film Festival red carpet when asked about the controversy. "Who's Stacey Dash? Is she related to [music producer] Dame Dash? Was she on Roc-A-Fella [Records]? I heard of a crazy lady once, maybe last week, but I don't know what her name is." Mic drop. 
Read more: 
Twitter applauded Union's response, calling her the "shade queen" and initiating the hashtag #WhoIsStaceyDash: 
Union, who stars in the Sundance film Birth of a Nation, said certain groups' exclusion from the mainstream warrants the need for what Dash called "segregated" award shows and other honors. 
"It's like why there's a need for Birth of a Nation, and why there's a need for the Country Music Awards and the ALMA Awards," Union said. "If you don't see yourself reflected in mainstream awards, you tend to create your own. Until there is no longer a need for that, I celebrate the ALMAs, the same way I celebrate the Country Music Awards and the same way I celebrate the BET Awards and the [NAACP] Image Awards."
Then Union made a final suggestion and jab at Dash. "The more that we focus on inclusion and a true representation of this country, I think that crazy lady will have less to say," she said.
Dash was subject to widespread, rampant criticism after she said on Fox News' Fox and Friends last week that BET and Black History Month are perpetuating segregation. "We have to make up our minds," she said. "Either we want to have segregation or integration, and if we don't want segregation, then we have to get rid of channels like BET and the BET Awards and the Image Awards, where you're only awarded if you're black. If it were the other way around, we'd be up in arms. It's a double standard. There shouldn't be a Black History Month. We're Americans, period."
Dash's widely unfavorable comments came on the heels of the Academy of Motion Picture Arts and Sciences nominating only white actors in the Oscars' four acting categories for the second year in a row. #OscarsSoWhite and led Jada Pinkett Smith and Will Smith to announce they're boycotting the awards show. Several other actors, including Mark Ruffalo, who's nominated for his role in Spotlight, have spoken out about the racial disparity. 
Watch Union's interview below:
Get the five stories that will challenge you to rethink the world by signing up for MicCheck Daily.