These Sheets May Just Fix the Worst Part About Making the Bed Forever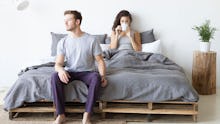 Among the most pointless parts of adulthood is making the bed. You sleep there, you wake up in a state of disarray and, supposedly, you're supposed to remake your bed every morning for... who? Who cares? That's what we'd really love to know. 
Anyway, the most agonizing part of this process is tracking down and tucking in that damn top sheet after it's slipped to the bottom of your bed and magically wrapped itself around your feet. Thankfully, now there's a product called Smart Bedding, and it's here to help us get out of ever making our bed again.
Despite the name, this "smart" bedding isn't techy in the least. Its convenience actually comes from snaps along the bottom edge and sides of a top sheet that connects it to the duvet cover. That's right, fellow lazies: You're never gonna have to wake up to a bunched-up sheet or tuck one in ever again.
There are only so many times we can cram our hands under a mattress, ya know? 
In addition to the top sheet and duvet cover, the smart bedding set includes a fitted white linen sheet and two white linen pillowcases, which don't come with too many bells or whistles. In total, it ends up costing $349 for full or queen and $399 for king. Comparatively, a luxe linen duvet, pillow cases and sheets could cost you up to $400 at West Elm.
The entire Smart Bedding set is also a standard white with the exception of the duvet cover, which can come in contemporary shades like "mint leaf" and "legion blue." Very on-trend, we must admit. 
The labor-saving design comes from the startup Need/Want, which actually received full funding (and then some) for the smart bedding on Kickstarter all the way back in 2013. Why did it take so long for it to actually be a totally real and purchasable thing? Blame the manufacturers. 
According to Mashable, over the last two years or so, the company scrambled and fought over orders (classic Kickstarter), which meant that they eventually lost a chunk of the more than $57,000 they had initially raised. In early 2015, they partnered with a new company and offered some of their early fans who had preordered sheet sets refunds. They improved the product from there, deciding to ditch cotton and go with a more sustainable linen for your sleeping pleasure. 
After all, there's major money to be made off of laziness — a Kickstarter offering a solution to folding clothes quickly raised more than $70,000, for Lord's sake. This sheet-and-duvet combo not only makes bed-making easier, but can also save relationships plagued by contentious sheet hogging. 
So now that companies are tending to our laziest needs we just have one question: When are they going to invent a fitted sheet that folds itself? Seriously, when?
h/t Mashable