China's Most Notorious Artist Just Closed His Shows in Denmark to Protest Anti-Migrant Law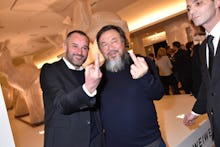 Denmark will no longer be enjoying the gift of expensive dissident Chinese art thanks to a recent decision by the country's parliament. 
Ai Weiwei — the artist and activist who rose to global celebrity in 2011 after being detained in a Chinese jail for 81 days on dubious charges — has removed his work from two major exhibitions in Copenhagen to protest the Danish government's ratification of a widely panned new bill, TIME reported.
The bill — which was approved by 81 of the 109 parliament members who voted, according to the Local — allows the government to seize cash and high-priced valuables from asylum-seekers in order to fund their stay in local detention centers.
The policy has drawn comparisons to Nazi Germany, where valuables were similarly seized from Jewish families and occupied territories during World War II to fund military efforts and fill Nazi museums.
Ai Weiwei's announcement came in an Instagram post on Wednesday:
It reads:
Ai Weiwei has decided to close his exhibit "Ruptures" at Faurschou Foundation Copenhagen, Denmark. This decision follows the Danish parliament's approval of the law proposal that allows seizing valuables and delaying family reunions for asylum seekers.
Weiwei's work was being shown at the Aros Aarhus Art Museum and the Faurschou Foundation gallery, both in Copenhagen.
The 58-year-old Beijing native is no stranger to taking political stances. Since 2005, when he started blogging on Sina Weibo — known stateside as "the Chinese Twitter" — Weiwei has become almost as well-known for his scathing critiques of Chinese governmental policy as for his sculptures, photographs and installations.
In May 2008, he led a citizens' investigation to compile the names of the more than 5,335 students who died in poorly constructed schoolhouses during an 8.0-magnitude earthquake in Sichuan — a task the Chinese government had shown a lack of transparency in completing. 
The materials he collected during that process — including photographs, video footage and actual parts of the wreckage — formed the basis for numerous artworks critical of the Chinese government. He has since been subject to harassment, arrest and detainment on many occasions stemming from his activism.
In recent months, Denmark has become increasingly hostile to the wave of migrants and asylum-seekers entering Europe from parts of Africa and the Middle East. According to the Washington Post, the chilly Scandinavian nation recently cut social benefits to refugees by 50%, riding the wave of anti-immigrant rhetoric that's gripped Europe and the U.S. since the November 2015 terrorist attacks in Paris.
It's an ugly look, especially at a time when the Syrian Civil War alone has displaced 9 million people since 2011 — all of whom seek new homes. Count on Ai Weiwei to use his art once again to denounce political insanity.
h/t Time