The Truth Behind a New Conservative Attack Ad on Bernie Sanders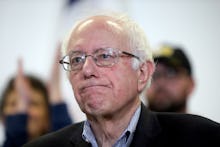 Sen. Bernie Sanders (I-Vt.) still faces an uphill fight to defeat Hillary Clinton for the Democratic presidential nomination and take on the Republicans in the fall, but he's already the focus of an attack ad from a GOP-aligned super PAC.
The ad comes from the ESA Fund, which the New York Times reported is spending $600,000 to run the ad in Iowa, where the presidential nominating contests kick off with caucuses on Monday. The ESA Fund is bankrolled by GOP megadonor Joe Ricketts.
While the ad calls Sanders "too liberal for Iowa," it points to a number of Sanders' policy positions that would likely appeal to Democratic caucusgoers, including support for free public college, a Medicare-for-all health care system and new taxes on Wall Street and the rich.
A familiar echo: The ad evokes a 2012 ad run by Sen. Claire McCaskill (D-Mo.) against then-Rep. Todd Akin, who was vying to be the GOP nominee against McCaskill. Figuring that the ultraconservative Akin would be the easiest Republican to beat in November, McCaskill ran an ad listing Akin's hard-line positions and calling him "too conservative," with the idea that it would ultimately boost Akin's standing with Republican primary voters.
Akin won the GOP nomination, but lost to McCaskill by 16 percentage points.
Clinton's campaign was quick to draw the comparison in a statement on Tuesday. The ad, Hillaryland insists, is evidence that the GOP is afraid to face her in the general election.
"Republicans are again trying to influence the Democratic presidential primary — pulling out all the stops in their attempt to prevent Hillary Clinton from becoming the Democratic nominee," the campaign said in a statement.
Indeed, Republican-aligned groups have relished the tightening Democratic contest and the possibility that Clinton will face a difficult slog for her party's nomination. After CNN released a poll showing Sanders with a massive lead in New Hampshire, the GOP-aligned group America Rising sent out this gleeful tweet:
Meanwhile, American Crossroads, a super PAC founded by GOP strategist Karl Rove, recently released an ad depicting Clinton as a creature of Wall Street — an echo of Sanders' criticisms of Clinton's financial industry ties.
Why the assist? The conservative efforts to boost Sanders complicate his campaign's argument that he's the candidate Republicans should most fear. 
Sanders has touted some polls that show him performing better in head-to-head match-ups with GOP candidates like Donald Trump, but Clinton allies insist that a nationally untested democratic socialist is a risky bet for Democrats heading into the fall. (While recent polls do suggest Sanders starts out a bit stronger than Clinton against Trump, PolitiFact noted that he doesn't do any better than Clinton against candidates like Ted Cruz, Marco Rubio and Jeb Bush.)
The Clinton campaign hopes that in an ironic twist, the right's pro-Sanders push will actually work to Clinton's benefit.
"While Sen. Sanders tries to make a case on electability based on meaningless polls, Republicans and their super PACs have made clear the candidate they're actually afraid to face," Clinton spokeswoman Jennifer Palmieri said in a statement about the Crossroads ad. "The Sanders argument falls apart when the GOP spokesman is trying to help him and the Republicans run ads trying to stop Hillary Clinton in the primary."