When Is Rihanna Releasing Her 'Anti' Album? Reports Say It Could Drop Before Friday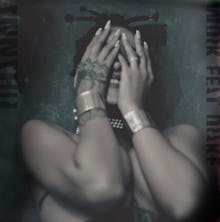 Mic/Twitter
Over the course of Rihanna's career, fans have been kept rather spoiled. Rihanna has released a commercially successful album nearly every single year since 2005's Music of the Sun — Anti marks the longest time the 27-year-old has waited to release a new album. That wait, however, could be coming to an end.
Billboard reported Tuesday that Rihanna could be planning to release the highly anticipated album before Friday, noting her world tour beginning in February and a single remaining room in the extensive #ANTIdiaRy campaign RiRi used to promote the album.
Read more:
Furthermore, Rihanna is becoming active again across social media after a bout of silence in anticipation of Anti. Rihanna dropped a fire selfie Monday morning on Twitter, writing she was "listening to Anti," hinting at the imminent release of her eighth studio album. 
Though a rumored release date should always be taken with a grain of salt in the ever-surprising music industry, recent reports of a new Rihanna single featuring an OVO member arriving Wednesday morning were correct. RiRi and Drake lit up international radio stations Wednesday with the easy hit and dancehall/hip-hop jam "Work," which she referred to as Anti's "first single" on Twitter.
That alone left fans wondering what's next for Anti — will "Bitch Better Have My Money," Rihanna's previous single, and her biggest hit of 2015, be featured on Anti? How about "FourFiveSeconds," featuring Paul McCartney and Kanye West, who is also promoting the release of new music? 
While Rihanna is listening to her forthcoming album in a pair of $9,000 Dolce & Gabanna headphones, the world continues to await a new album. Whether Anti will be released before Friday, however, is anyone's guess.