It Looks Like Zika Virus Might Be Transmitted Through Sex, so That Sucks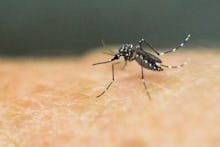 The Zika virus, a mosquito-borne illness that can lead to brain defects in newborns, isn't likely to stay contained to the several Caribbean, Central and South American countries that have recently been dealing with outbreaks. Ahead of the 2016 Summer Olympics in Rio de Janeiro, the World Health Organization has warned that the virus might continue to spread throughout North and South America. 
How, you ask? Well, there's a possibility Zika can be spread via sexual contact. Sorry, everyone.
According to the New York Times, the Centers for Disease Control and Prevention says there's not enough cause for concern to issue an official warning that Zika — which can cause fever, rashes, joint pain and bloodshot eyes — can be contracted during intercourse. Though the Times notes that evidence of widespread sexual transmission is still "very slim," there have been instances of the virus being detected in semen, leading some scientists to warn that if you visit an affected region, you should probably use a condom when you have sex. 
"If I was a man and I got Zika symptoms, I'd wait a couple of months before having unprotected sex," Scott Weaver, the director of the Institute for Human Infections and Immunity at the University of Texas Medical Branch in Galveston, told the Times. "If my wife was of childbearing age, I'd want to use protection, certainly for a few weeks."
The warning is based on a reported instance of live Zika virus being found in the semen of an unidentified 44-year-old man, who was exposed to the virus in 2013. Doctors also found evidence of the virus in the man's urine, but they're unsure how long it actually stayed in his body. 
Medical researchers have also found at least one instance in which Zika was likely passed from one partner to another. Biologist Brian D. Foy contracted Zika virus when he visited Senegal in 2008. A few weeks after his return to the United States, Foy's wife, who had not left the country, developed more intense Zika symptoms than her husband. Both partners provided blood samples that later tested positive for the virus. 
While neither Foy nor his wife passed the disease to their children, the couple did have sex shortly after he got back to the U.S., suggesting that the disease might have been sexually transmitted. That said, there's no need to panic just yet: As the CDC points out, Zika is primarily (aka almost exclusively) transferred by the Aedes aegypti and Aedes albopictus mosquitoes.
Then again, who wants to risk it? Maybe just play it safe and use a condom. 
h/t New York Times
Update: Feb. 3, 2016, 8:41 a.m.