These Photos Powerfully Oppose Rape Culture by Showing Women Are 'Still Not Asking for It'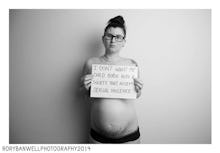 When photographer Rory Banwell and her husband learned they were expecting a baby girl, they were thrilled. Their joy was dampened, however, by others' responses to learning their child's gender — including someone who suggested it was "time to buy a gun."
"We were so disappointed that people's initial reactions were that we would need to protect her, purely because of her gender," Banwell told Mic. The photographer decided she needed to respond, so she wielded the power of her lens and the moving photo series Still Not Asking for It was born.
The series, which was originally launched on Tumblr before being posted on Facebook in 2015, features powerful statements opposing rape culture scrawled across the chests of topless subjects. The concept, Banwell said, was inspired by a moving image of a similarly topless woman at SlutWalk Chicago who wrote "Still Not Asking for It" across her chest.
"I liked the idea that regardless of what anyone is wearing, there is no excuse, no justification and no invitation for someone to sexually assault them," Banwell said. 
While Banwell has found the project empowering, she has also been taken aback by some particularly cruel responses to the project. Viewers from all over the world have evaluated the attractiveness of her subjects, noted that "no one would want to rape" the subjects anyway, and posted otherwise horrendous comments on the project's Facebook page, she said. But their cruelty ultimately reaffirms "how insidious and widespread rape culture is through the world," she said, and underscores just how important it is to combat these attitudes. 
The facts back Banwell's observation up. About 1 in 3 women worldwide have experienced physical and/or sexual violence in their lifetime, according to the World Health Organization. The consequences extend far beyond the violation itself: Survivors of sexual assault are three times more likely to suffer depression, 26 times more likely to abuse drugs and four times more likely to contemplate suicide than others, according to Rape Abuse and Incest National Network.
Additionally, marginalized groups experience sexual violence at disproportionate rates: 40% of gay men and 64% of transgender individuals have experienced sexual assault in their lifetime, according to the Centers for Disease Control and Prevention, and 60% of black women are sexually assaulted before the age of 18, according to research conducted by Black Women's Blueprint and reported by BET. Going forward, Banwell hopes to acknowledge this reality and expand the project to include subjects of diverse races, ethnic backgrounds and gender identities in order to better represent all viewers.
Ultimately, Banwell said, the project has demonstrated just how inadequate sex and consent education is in her native Australia, as well as all over the world. This ignorance is evident not only in terms of the aforementioned comments, but also in how Banwell has witnessed viewers identify their own previous experiences as insidious violations of their consent. 
"We can do better and we should do better," she said. "I don't want my child growing up in a society that accepts sexual violence, accepts these statistics and won't do anything about it."