Fox News Republican Debate 2016: Everything To Know About Thursday's GOP Debate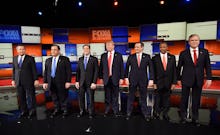 Rainier Ehrhardt/AP
The second Republican primary debate of 2016 will commence Thursday at 9 p.m. Eastern at the Iowa Events Center in Des Moines, Iowa, just days ahead of the Iowa caucus. Between the debate's proximity to the Iowa caucus, Trump planning to boycott the debate and host Fox News collaborating with Google and YouTube to help determine what questions moderators will ask, the seventh GOP debate should be different than past debates. 
New question format: Viewers can tune in to the two-hour Fox News debate on its TV channel, live stream it (no cable subscription required) on the Fox News site or watch on the Fox News mobile app. Moderators will choose some questions based on Google Trends "real-time insights on candidate search interest, key issues and topics covered throughout the night" and YouTube stars will have the chance to ask candidates questions by submitting videos. 
Read more:
Trump's alleged boycott: After days of speculation from the media, GOP frontrunner Donald Trump announced in Iowa Tuesday that he won't participate in the forthcoming debate due to a feud with Fox News — but many won't believe his boycott until they see it, as the candidate has threatened and failed to follow through with debate boycotts in the past. "Why should the networks continue to get rich on the debates?" the billionaire told reporters in Marshalltown, Iowa, the Washington Post reported. "Why do I have to make Fox rich?"
In a statement to Mic Tuesday, his campaign insisted that he won't be attending. "Mr. Trump knows a bad deal when he sees one," the statement read. "Unlike the very stupid, highly incompetent people running our country into the ground, Mr. Trump knows when to walk away."
Candidates participating: If Trump follows through with his boycott, there will be seven candidates participating in the main debate: former neurosurgeon Ben Carson, Texas Sen. Ted Cruz, Florida Sen. Marco Rubio, former Florida Gov. Jeb Bush, New Jersey Gov. Chris Christie, Ohio Gov. John Kasich and Kentucky Sen. Rand Paul, who boycotted the last debate because he failed to qualify for the main stage. In order to qualify for the main stage debate in Iowa, candidates must rank "either among the top six in an average of the five most recent national polls, or among the top five in an average of the five most recent Iowa or New Hampshire polls," Fox said in a statement, according to USA Today.
Former Hewlett-Packard CEO Carly Fiorina, former Arkansas Gov. Mike Huckabee, former Pennsylvania Gov. Rick Santorum and former Virginia Gov. Jim Gilmore — who hasn't qualified for a debate since the first one — will face off in the undercard debate at 7 p.m. Eastern. In order to qualify for the undercard debate, candidates must have at least 1% support in one of the five most recent national political polls recognized by Fox. 
Moderators: Fox News Sunday host Chris Wallace, Special Report anchor Bret Baier and The Kelly File anchor Megyn Kelly, all of whom moderated the first GOP debate in August, will return to moderate Thursday's main stage 9 p.m. Eastern debate. America's Newsroom anchors Bill Hemmer and Martha MacCallum will moderate the 7 p.m. Eastern undercard debate. 
Correction: Jan. 27, 2016