Why Did Kanye West Change the Name of His Album From 'Swish' to 'Waves'?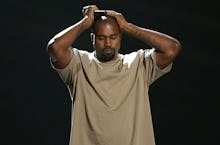 Matt Sayles/AP
Everything you knew about Kanye West's seventh album is a lie.
Or, a hefty chunk of it is. The album formerly known as Swish is now titled Waves, because West is who he is, and he doesn't need a reason. At least, he didn't give one: The announcement came in the form of a terse tweet Tuesday evening.
"New album title, WAVES," West tweeted. And with that, Swish passed into distant memory. 
Read more:
Still, the name change is a bold move, considering that Waves is slated to drop in just over two weeks' time, on Feb. 11. Could it be a simple publicity grab before his much-anticipated album releases? It's not like he needs the publicity — vigilant fans jump on every inkling of news about West's latest work, which was supposed to be released in 2015 and about which he loves to tease his fans — but courting the spotlight is not exactly an unusual move for the Kardashian Wests. Possible.
It might also be force of habit: This is the third time that the manifold Grammy winner has renamed the album. West revised the original title, So Help Me God, to Swish in May, again in a to-the-point tweet. "I'm changing my album name to SWISH," he tweeted, noting that the decision wasn't necessarily permanent.
And remember Good Ass Job? Probably not, because its name changed to My Beautiful Dark Twisted Fantasy before its 2010 release. Chronically indecisive? Too many words from which to choose? Could be.
Regardless of motive, the album is doing exactly what its title suggests: making waves. As Consequence of Sound reported, the change of heart has West's fellow musicians talking. Mick Jenkins, a rapper from Chicago who recently released his own Waves EP, and indie outfit Wavves both took to Twitter to announce title revisions of their own.
Wiz Khalifa, however, was not joking around when he sent out his series of tweets, pleading with West "please don't take the wave" away from MC Max B, purportedly the king and creator of all things wavy and who is currently behind bars, unable to reclaim his wave.
But whatever his reasoning, West does what he wants.