Some Fans Aren't Feeling Rihanna's New Song "Work" Featuring Drake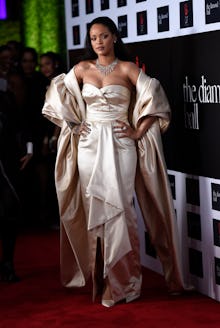 Jordan Strauss/AP
Rihanna cultivated hype surrounding her forthcoming album Anti for months and launched arguably the most intricate album campaign ever with #ANTIdiaRy — and then the single she drops off the album ahead of its release involves her repeating the word "work" ad nauseam with the peak being a quick verse from Drake? 
"Work" was the No. 1 downloaded song on iTunes in over 40 countries just three hours after its release, yet many Twitter users are aren't satisfied with the highly anticipated single. Some are calling it "repetitive," "boring" and "a disappointment" while others say Drake's verse was the best part. 
Read more:
Some said a song that credited eight writers should have a more "complex" lyrical vocabulary.
Rihanna has been hyping up Anti for several months, but this single, an upcoming February tour and a few other hints suggest it should be released in the near future — possibly before Friday, Billboard reported Tuesday. On Monday, the singer tweeted a picture of her wearing headphones ($9,000 headphones, that is) with the caption "listening to Anti," hinting that after recent reports suggested she was still finding songs for the album, it's now wrapped up and ready to go.