Who Is Travis Scott, the Rapper Releasing Hits With Kanye West, Rihanna and Others?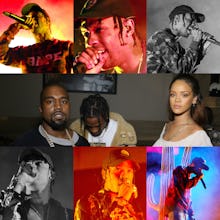 Mic/AP
He co-wrote "Bitch Better Have My Money," and might be the reason Rihanna has been on island time when it comes to releasing Anti. He's also Kanye West's right-hand man, with a feature on his recent song, "Piss on Your Grave." And yet, you might not have ever even heard of Travis Scott. 
Scott, however, doesn't need an introduction. Though the 23-year-old artist from Houston has only been in the music limelight since he signed with Epic Records in 2012, his four years of influence in the industry can already be considered profound. 
"People are gonna feel the imagery, what my life consists of, what the world of Travis Scott is," Scott said of becoming a recognizable face in hip-hop, according to MTV. "What is this kid thinking? Who is this kid? What is he trying to tell us? That's what they gone feel through these songs."
Source: Soundcloud
Not always fast cars and red carpets: Living so far from the rap industry hot spots of Hollywood and New York City, Scott had slim pickings when it came to hip-hop mentors in the South. Still, the beats maker was able to get in front of the likes of Houston producer Mike Dean when he was just 17 years old.
After spending some time in New York struggling to make it as a musician, Scott was forced to relocate to Los Angeles, where his career finally had an upbeat swing. 
T.I. signed Scott to Grand Hustle in 2013 after arranging a meeting with him and listening to his music in California. It was shortly after when West took Scott under his wing, signing him to his label G.O.O.D. Music. The catch: Scott was already signed as an artist to T.I.'s label, so he joined West's team as a producer.
Source: Soundcloud
A steady stream of hits: The move allowed Scott to remain under T.I.'s label, and he released his debut album Rodeo in 2015. Meanwhile, Scott was preparing a major wave of music with artists like Rihanna, West, Wiz Khalifa, Justin Bieber and several others, some of which fans may not even be aware of yet. 
Before Rodeo, Scott released two free music projects, one titled Days Before Rodeo in 2014 and another in 2013, Owl Pharaoh. Both received nominations each year for mixtape of the year award at the BET Music Awards. 
With almost 2 million Twitter and Instagram fans combined, Scott has accrued a massive following through surprise releases with major artists, controversy and even a keen fashion sense. As his following and influence in the industry continues to grow, artists are continuing to pick up Scott for features on forthcoming albums, and even remixes to previously released hits. 
To what extent Scott will appear on Waves or Anti, however, remains unknown. 
Correction: Jan. 27, 2016