A Bradley Cooper Lookalike Is Crashing Parties at the Sundance Film Festival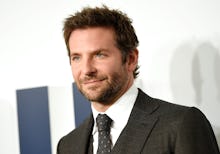 Evan Agostini/AP
Close but no Cooper.
An unnamed individual who arguably looks a bit like actor Bradley Cooper has reportedly been trolling Sundance Film Festival events and pretending to be the actor in order to gain access to elite parties, sources told Page Six. The renowned independent film festival is underway in Park City, Utah, and will continue through Sunday.
The Cooper doppelgänger tried to weasel his way into a party Saturday at Bar 53 at Rock and Reilly's, according to Page Six, but event organizers "quickly caught on" after the man refused to show ID. Side note: According to Page Six's sources, Cooper's lookalike had a photo from the film The Hangover, in which Cooper starred alongside Zach Galifianakis and Justin Bartha, as his iPhone screensaver. 
Read more:
A photo of the man who has allegedly been masquerading as Cooper was shared on Instagram with the caption, "Last night chillin' with Bradley at Sundance." Responding to the photo on Instagram, one user wrote, "How drunk were you to think that was really Bradley Cooper?"
And reacting to a tweet from Vanity Fair polling users on how closely the individual resembles Cooper, responders were divided at best and clueless at worst.
Others reacting to the news were apathetic, which is a fair sentiment considering the newsworthiness of other Sundance happenings, such Fox Searchlight's record-breaking bid to purchase the distribution rights to The Birth of a Nation, a film from actor, writer and director Nate Parker that offers up a narrative on Nathaniel Turner and which has garnered a lot of buzz. The buy came with a whopping $17.5 million price tag and made Fox Searchlights the victor of a bidding war with Netflix and Paramount over the film. Or, the amount of diversity at this year's festival. Looking at you, Oscars.
Most recently, Cooper starred in the 2015 film Joy alongside Jennifer Lawrence. According to his IMDb page, Cooper is working on two films that are both in pre-production and scheduled for release in 2017 — Guardians of the Galaxy Vol. 2 and A Dog's Purpose. 
For those looking for more Cooper in the meantime, here's a clip him and his peers fake auditioning for the cult classic film Clueless.