Here's What We Know About the New 'Little House on the Prairie' Movie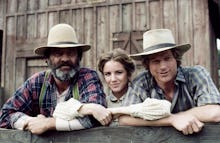 NBC/Getty Images
Hitch up your oxen and strap on your suspenders because Little House on the Prairie is making a comeback. A film reboot based on the Little House on the Prairie TV series, which ran on from NBC from 1974 to 1982, is reportedly in the works, according to Variety.
The film was dropped by Sony and picked up by Paramount, where it is currently in development, the Guardian reported. Sean Durkin is set to direct, and Abi Morgan, a writer on Suffragette and The Iron Lady, will pen the script. No cast members have yet been announced.
The TV series was based on the semi-autobiographical children's books by author Laura Ingalls Wilder, who was inspired by her childhood in a pioneer family on the 19th-century American frontier. 
In addition to the TV series, the books also inspired a 1999 miniseries about Wilder's life and a musical adaptation.