This Pop-Up Shop Is Giving Muslim Women the Modest Clothes They Really Want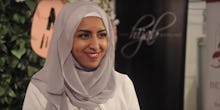 Earlier this month, news broke that luxury brand Dolce & Gabbana was going to start producing hijabs. In a statement to Mic, a representative for the brand called it "a special collection designed for a specific audience and to meet the needs of ... our clientele." Overall, it was a win for Muslim women as powerful consumers — with one small exception. With Dolce & Gabbana dresses costing upwards of $7,000, the hijabs are unlikely to be affordable. 
Less than a week after the Gabbana announcement, blogger, designer and pharmacist Zulfiye Tufa showed off an impressive alternative. 
On January 10, on the first floor of an empty retail space in Melbourne, Australia, nearly 600 women buzzed through racks of long skirts, long-sleeved tops, scarves and hijabs. As Tufa described to Mic, there was a barbecue going out on the patio and a prayer room open for use. A D.J. spun Drake tunes, and a wall especially made for selfies stood tall. 
This was ModMarkit, a pop-up market organized by 26-year-old Australia native Tufa, who may be better known by her social media moniker the Hijab Stylist. As a sign called it out front, the market was intended to be "the world of modest fashion made easy." The women in attendance were there to sell, swap or buy pre-owned clothing from other women, or buy new clothing from stores who were there as vendors.
The purpose was not only to create a fun shopping space. For Tufa, who wears a hijab, the market is a way for young women to take control of their own fashion needs, make the clothing accessible and take home the profits while they're at it.
"For a lot of Muslim women, there aren't many events that we can go to to cater to us specifically," Tufa told Mic. "I thought it'd be really nice to have a place to pray, have a place to shop, have a place where you can buy hijabs from and long dresses that are funky as well. I wanted to bring this community to life." 
Since she started documenting elaborate hijab styling for Muslim women for their weddings or formal events, Tufa's online presence, on Instagram and YouTube, has always been about dressing modestly and stylishly. But as the Hijab Stylist, she's heard from regular girls out there about how challenging it can be to even find modest clothing, much less style it.
That's why she launched ModMarkit as a popup event, she told Mic — and why she has plans to create a ModMarkit app. The idea is to create a modest Etsy-meets-eBay, where women can create profiles and then resell their clothing. The app will feature tech details that help cater to specific clothing needs, like the ability to search for "long sleeve top" and get the precise kind of top that they want.  
It will also serve as a destination where modest shoppers can find clothing they know works, not just something from H&M or J. Crew that happens to be long-sleeved but doesn't really fit the bill. Three issues in particular tend to crop up, Tufa said: the lengths of dresses, skirts and sleeves, the thickness or sheerness of a fabric and the breathability problem. Dressing modestly shouldn't mean that you're sweating all over the place.
"It's basically me catering to my own problems since I feel like people have similar issues," Tufa said. "The skirt is just not long enough, or the shirt is just too tight. Basically, if you do want options and don't have them, it's very frustrating. So this is putting the power back in our hands and solving our own issues."
The app will also feature a wide variety of clothing and styles — after all, what is "modest" to one woman might not be for another. Some women who say they dress modestly wear skirts only past the knee, for example, while others like to wear them to their ankles. It's a totally self-identified preference. 
That variety is something Tufa is acutely aware of, as someone who's been designing and altering her own clothing since age 16. She said she plans on including her own designs on the ModMarkit app, rolling out different items each month.
"Modest fashion just highlights how much of your body you're covering," she said. "When I'm designing, I'm designing to accentuate the clothing as opposed to the body that's wearing it. So I'm not highlighting your boobs, I'm not trying to accentuate your bum. I'm try to accentuate the elegance."
Plenty of other women are also in the market for modest clothing. The Islamic fashion industry will reportedly grow to be worth $327 billion by 2020, and more mainstream brands like DKNY and H&M have started reaching out to female Muslim shoppers, whether through actual clothing offerings or representation in ads.
But really, it's innovative young Muslim women who are making a mark: designers like Hana Tajima, who recently partnered with Uniqlo for a line of hijabs, and Diana Kotb, who designs for a sleek high-fashion look. It's a small group, but it is an important one — because if designers like Dolce & Gabbana are paying attention to this powerful market, then shouldn't those who are eager to wear the clothes (and may already be designing them themselves) get in the game too?
"At the end of the day, I like the concept of modesty, and regardless of what religion you have," Tufa said. "But I think we just need more options that work, so that is why I'd like to see more women designing." 
And shopping, too. The ModMarkit app is set to launch mid-2016; in the meantime, Tufa will be taking the ModMarkit shopping event on the road to other Australian cities with hopes of traveling to England and the U.S. so more women than ever can get the clothes they want.