"Chelsea Does Silicon Valley" Recap and Why Twitter Totally Relates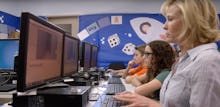 YouTube
Chelsea Handler travels to the technological hot spot Silicon Valley, California, in one of the four episodes for her recently released docuseries Chelsea Does. In "Chelsea Does Silicon Valley," the self-proclaimed technologically challenged comedian discovers how tech impacts — or rather disrupts — people's lifestyles. 
"I want to understand how things work," Handler said in the episode's trailer from YouTube. Exploration is the theme of Handler's Netflix series, in which she delves headfirst into hot-button subjects such as racism, marriage and drugs. The series is in anticipation of her new her talk show, which will air on Netflix in May.
In "Chelsea Does Silicon Valley," Handler attends a coding class at an elementary school in Beverly Hills, California, which stands as evidence to how prevalent technology has become to future generations, Inc reported. 
Read more:
In a very meta meeting, Handler sits down with Netflix CEO Reed Hastings to get the lowdown on what "streaming" actually is. In a less alive interview, Handler meets with the artificial intelligent lifelike robot Bina Rothblatt, or BINA48. 
Other notable interviews during the series include Twitter CEO Dick Costolo and Lisa Lavin, co-founder of PetChatz, which lets people webcam their pets when away from home, Inc reported. Handler also has a candid dinner party with people, including Khloé Kardashian, about the media. "Our society is so caught up on getting validation," Kardashian said.  
Handler reaches out to development firm Yeti.co, which has worked with Google, to develop her own app. She comes up with Gotta Go, an app that sends excuses in the form of texts or phone calls to help people escape bad or awkward social situations, according to Tech Crunch. There are preset excuses, like a car being towed, or users can customize one. The app is available for download for free at the App Store. 
She pitched the app to venture capital firm Foundation Capital, and brings along a child from her coding class for backup, Inc reported.  
Handler attends a "mini digital detox," which is like group therapy for people addicted to technology and devices, the Examiner wrote. In her group, some attendees used devices for more than five hours a day. In the session, the group completes social activities, such as hugging each other in order to remind themselves of that irreplaceable physical human interaction.
Twitter reacted positively, while people admitted to be confused by technology: