Who Is Max B? What to Know About Harlem Rapper Praised by Kanye West, Wiz Khalifa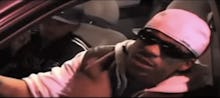 YouTube
After Kanye West changed the title of his new album to Waves Tuesday night, rapper Wiz Khalifa seemed less than pleased on Twitter. "Please don't take the wave," the Pittsburgh native tweeted. "Max B is the wavy one. He created the wave. There is no wave without him."
Khalifa is referencing Harlem rap artist Max B, who got his start in the rap industry through a meeting with Harlem-based rapper Jim Jones, set up by childhood friend and Dipset lead artist Cam'ron, according to Complex. The meeting was set up after Max B, born Charly Wingate, served eight years in jail for robbery as a teenager.
Read more:
The Harlem rapper worked with Jim Jones and his group ByrdGang, before splitting up in 2008 due to disputes over Max B's contract and his compensation. 
According to authorities, Max B conspired with his ex-girlfriend Gina Conway and stepbrother Kelvin Leerdam in 2006 to rob two men at a Holiday Inn in New Jersey. Conway and Leerdam ambushed Allan Plowden and his partner David Taylor, shooting Taylor in the head. Max B was sentenced to a 75-year prison sentence in 2009 for felony murder, armed robbery and other offenses. 
"My charges were excessive. I was never at the scene of the crime. It's very insufficient. Just off that alone, I'll be back," the rapper told MTV News in 2010. "It ain't about me being convicted. It's about: Can this conviction stand up in an appellate court?" 
The wave movement is best attributed to Max B, whose melodic, laid-back style influenced many of the sounds hip hop fans hear today. "He's the reason I sing on all my songs. That's the wave," Wiz Khalifa wrote in a tweet. 
When asked if he was inspired by anyone to use the moniker "Max B", the rapper said in an interview with Complex, "that was just a name I came up with." 
"That was just something I created, it was all part of the character. That was my persona. There's an art to this, I believe. I really believe there's an art to this, I swear. And when you comin' in this game, you gotta put a character together, what you gonna do," the Harlem rapper said in the 2013 interview from jail. "You can either give 'em you, you know, or you can live in your character. Me, I been away so long, and not been in the ghetto so long, that by the time — when I became Max B, I didn't know how to switch off Max B. I was always Max B."
"As far as his melodies ... they were second to none as far as I was concerned," Long Island MC Roc Marciano told Complex in 2013. "In my opinion, he was the street version of what Drake is — the fans can have Drake, but the streets have Max." 
Kanye later tweeted "all respect to Andre Harrell and Max B #Waves." Yeezy also acknowledged New York native Harrell, an industry executive and former rapper, in a tweet. Wiz replied with a trite "Yeah aight."
Khalifa then went on to post several Max B videos, including "Lip Sing," "Never Wanna Go Back," "Porno Music" and "Why You Do That." Max B is still releasing music from jail, having released the mixtape Return of the Wave in 2013. 
Fans of Max B, who has a large cult following, took to Twitter to express their delight that the Harlem rapper was trending.
Max B will be posting his newest petition for his release on Feb. 1 on his website, SupportMaxB.com.