Will A$AP Rocky be Featured on Kanye West's New Album, 'Waves'?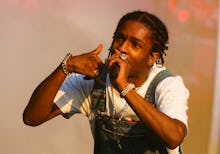 Jack Plunkett/AP
By now everyone is well aware that Kanye West's forthcoming album, which the internet had come to know as Swish, is now called Waves. Boring. The more urgent question on fans' minds now: Who will make guest appearances on the revamped seventh album? And in classic Kanye fashion, he is dropping hints. 
Read More:
Following his Twitter announcement of the title update, West posted a photo of the revised song list, with the names of various celebrities who'd apparently been in-studio with him scrawled across the bottom. Who do we see? Wife Kim, sister-in-law Kylie and A$AP Rocky, among others. Could the latter show up on Waves? Certainly plausible, but so far, neither West nor Rocky has commented on the theory. Rocky did, however, tweet a thought-provoking meme.
Is that in reference to his possible work on Waves? Not necessarily. 
Let's look at the evidence. West's tweet shows a notepad with 10 songs written on it that previously comprised Swish. The old title is crossed out in red and revised to reflect Tuesday's name change, while the tracks have been divided up into three acts. (Because life is a play and all West's world is a stage?) An 11th song appears to have been added in the 11th hour.
Here's how that shakes out, according to XXL:
Act I
1. "Ninja Chop"
2. "Faith Stretch My Hands"
3. "Waves"
Act II
4. "High Lights"
5. "30 Lights"
6. "No More Parties in L.A." ft. Kendrick Lamar
7. "Fade"
Act III
8. "FML" 
9. "Real Friends" ft. Ty Dolla Sign
10. "Wolves" ft. Sia and Vic Mensa
11. "Ultra Light Beam"
Which of those tracks might include A$AP Rocky? At present, it's anyone's guess. We can, however, narrow the odds by three: Rocky definitely doesn't feature on "No More Parties in L.A."
Source: Soundcloud
Nor can he be heard on "Real Friends."
Source: Soundcloud
Nor can he be heard in "Wolves."
Source: Soundcloud
West and Rocky have worked together before: On Pusha-T's January release, Darkest Before Dawn: The Prelude, they can be heard — along with The-Dream — on the track "M.P.A." They also collaborated on Rocky's track, "Jukebox Joints." What does that mean for Waves? The frustrating answer is, we just don't know.
But with or without Rocky, we have it on West's authority: "This is not the album of the year. This is the album of the life."