New Erotic Novella 'Trump Temptation' Is Probably a Great Beach Read — If You're Into That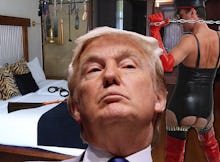 "He was a billionaire, I was a bellboy, can I make it any more obvious?"
So begins the Amazon summary for 22-year-old comedian Elijah Daniel's new 10-page erotic novella Trump Temptation: The Billionaire and the Bellboy.
On Jan. 20, the self-described comedian from Los Angeles made a promise on Twitter to drunkenly publish an "entire Donald Trump sex novel."  
And teased it with some undeniably effective marketing:
(It's a move, Daniel told Mic, that could be the best drunken decision he's made since "the time in 2013 when I jumped on stage drunk at a Ying Yang Twins concert and twerked to 'Salt Shaker.'")
Indeed, he made good on his word, swiftly posting to Amazon the torrid tale of the GOP frontrunner's tryst with a bellboy working in Hong Kong's Trump Hotel on an internship program. (Whether Trump hotels actually offer this alleged "bellboy internship" program isn't clear, but it sounds like it has interesting perks.)
The plot for the e-book, Daniel wrote in a tweet, was inspired by an alleged article on a now-defunct, cryptically titled website hufingtonpost.co (note the misspellings) about Trump paying off a secret gay lover. The rest of the storyline was culled from a Twitter poll in which he asked followers to vote on the best meet-cute scenario for Trump and his paramour.
In the book's first chapter, the unnamed bellboy's "loins tremble as the scent of toupee adhesive and spray tan swept through [his] naval cavity." Amazon's preview of the book leaves readers with a cliff hanger when Trump himself taps his soon-to-be lover on the shoulder. 
Daniel admits in the dedications page of Trump Temptation that the erotica isn't his finest work, declaring in a less-than-carefully-worded message to readers, "This is really bad, and it's meant to be really bad. You paid fucking real actual money for this shit. You need to reevaluate your life. But thanks for reading my fucking garbage, I guess. I'm so sorry."
But it seems there's an audience for Daniel's niche brand of garbage. As of this writing, the book is No. 1 on both Amazon's "gay erotica" and "humorous erotica" bestseller lists. And the 199 reviews — which rate the book at a whopping 4.9 of 5 stars — echo this trend loudly, with one satisfied reader deeming it "50 Shades as it should have been."
Many more came through with that celebrated brand of Amazon humor:
So what originally started out as an inside joke turned into something, as Trump himself would say, "Yuge!" 
It is perhaps the most committed anyone has ever been to an inside joke. "I tweeted in 2012 that if Trump didn't buy me a BMW I would 'tell everyone about our night in Hong Kong,'" Daniel said. "Someone a few months ago compiled that tweet, along with a photo of me driving my BMW. ... It was hilarious and I just kept it going."
And that joke could be paying off big-time: He told Mic he just closed deals on two new shows off the buzz of Trump Temptation, called Elijah Daniel is Insane, a docu-series following Daniel's antics, and Social, a scripted comedy series following Daniel and Vine star Christine Sydelko.
Daniel says he no problem with his big break coming from the publication of his first satiric erotic novella. And anyway, Daniel says his dreams extend far beyond a best-selling 10 page novella and two TV shows:
"I'll be running for president in 2042."
Jan. 27, 2016, 6:00 p.m. Eastern: This story has been updated.