Did Swizz Beatz Work on Kanye West's 'Waves' Album? Here's What We Know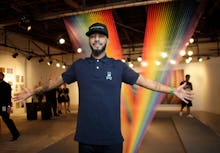 Lynne Sladky/AP
On Tuesday, Grammy winner Kanye West announced a name change and release date for his latest album, now called Waves, over a picture from Twitter. The image is of a piece of paper with the album's apparent tracklist and a bunch of celebrity signatures, one of which reads, "Swizz is here." Earlier this week, Swizz Beatz posted an Instagram of the very paper. These posts allude to Beatz being one of West's collaborators for the new album. 
Born Kasseem Dean from the Bronx, New York, he lives up to his stage name as a veteran producer, rapper and member of the Brooklyn Museum's Board of Trustees, BET reported. He's also married to fellow musician Alicia Keys. On top of having won two Grammys, Dean has been on the backend of countless creative endeavors and has a resume to boast.
Read more:
Swizz Beatz stepped into the music world at 16 years old, according to Forbes. In 1999, he became a member of the Ruff Ryders crew under Grammy-nominated rapper DMX. One of his best-known songs remain 1988's "Ruff Ryders Anthem," inspired by Beatz's New York and Atlanta roots. "I didn't even know I was producing," he told Complex in 2011. "I was just making tracks. I wasn't a producer at the time, I was a beatmaker. I was just making beats for my mixtapes to make them sound different."
Since then, he's produced for Jay-Z, 50 Cent and Beyoncé. In 2001, Beatz founded Full Surface Records as a joint venture with legendary producer Clive Davis as an attempt to diversify the stumbling hip-hop genre, which was losing sales despite increased output, according to Forbes. Beatz was 23 years old.  
He released the album One Man Band Man in 2007 under the Motown label as his second solo effort, according to IGN. The album received disappointing review, but featured artists such as R. Kelly, Coldplay and Lil' Wayne.
By 2010, Beatz's long list of musical accomplishments earned him the first ever producer in residence for the Clive Davis department of recorded music at New York University's Tisch School of the Arts, according to a statement. There, Beatz helped guide students through one-on-one sessions, lectures and mentoring. 
"They seek him for his signature sound: brash instrumentals and futuristic beats layered with what's become his sound mark—clever, catchy sound-over's on a track," the statement said about Beatz's style. "Nearly every song he's touched has turned to gold, platinum or diamond."
Beatz's creative collaborations also venture outside of music. He's the vice president of creative designs and global marketing for Lotus cars and also a creative director for Reebok, Billboard reported. He's also a member of the Board of Trustees for the Brooklyn Museum and has his own personal collection called the Dean Collection, BET reported. Perhaps his most confusing venture is his involvement with file-sharing site Megaupload, which was shut down by the government in 2012, according to MTV. While a supporter, he was not CEO, which he was accused of.
"I have won every accolade I can have in music," Beatz told Vulture in 2014. "I am 36 years old now, have a family, am a husband, do you think I am going to dress cool and jump onstage for the rest of my life? That isn't cool."