Calvin Klein's Spring 2016 Ads Are Actually Really Important, Despite Justin Bieber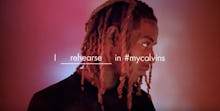 YouTube
Calvin Klein is arguably the most relevant underwear brand among young people — and the unique, diverse campaign ad for its spring 2016 line reminds us why. At such a pivotal moment for the movement against whitewashing in mainstream media, the label selected an eclectic group of artists, models and athletes (and of course Calvin regulars Kendall Jenner and Justin Bieber). FKA Twigs, Kendrick Lamar, South Korean football player Park Sung-jin and some kids cast off the street are all in an engaging ad that emulates the beauty in diversity. 
"I ____ in #MyCalvins" is the campaign slogan. Each model purportedly filled in the blank for their individual spreads accompanied by a stunning image representing whatever it is they do in their Calvins. Jenner "dreams" in her Calvins, FKA Twigs "flexes" in hers, Park "breaks through" in his. Social media users joined the campaign with impromptu Instagrams showing off what they do in their minimalistic undies and jeans, perpetuating the #MyCalvins campaign that became viral among 20-somethings after its launch in 2014.
Read more:
Here's a look at the result (the full campaign is on Calvin Klein's site):
The campaign was photographed by London-based photographer Tyrone Lebon, who aired his first film on MTV at 18 and whose other clients have included Adidas, Apple, Celina, Maison Martin Margiela, the New York Times and a plethora of other critically acclaimed publications and high-end brands.
The campaign's official theme isn't diversity — it's about action and ambition. 
"This campaign moves from the passive, solo moment of the static selfie to live action, supporting the concept that the movement and moments of life are what creates its sensuality and sexiness," the announcement for the campaign reads, according to Entertainment News. "The campaign images are intimate and authentic, taking the long view past the famous faces in them to find the shared human truth at the heart of a generation that prides itself on its purpose and ambition."