Kanye West and Wiz Khalifa Are Feuding on Twitter After Yeezy Changed 'Swish' to 'Waves'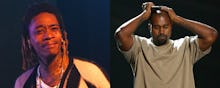 Kanye West is firing back at Wiz Khalifa after latter implied West's new album name Waves was stolen from incarcerated rapper Max B. "Please don't take the wave," Khalifa tweeted Tuesday night after Yeezus announced the sudden switch from Swish. 
West exploded in a fiery Twitter storm, writing on Wednesday, "no one I know has ever listened to one of your albums all the way through," and, "Don't ever ever ever come out the side of your mutherfucking neck bro or bruh or however you say it Mr. Waves."
In perhaps his most savage tweet throughout the feud came when West wrote, "I know you mad every time you look at your child that this girl got you for 18 years," referencing model Amber Rose.
Read more:
Here is a breakdown of the tweets, in conversation order:
A Twitter war has been a long time coming. The two go on like this for some time, dissing everything from each other's former and current wives, to their style choices and lack of authentic music. Both dated Rose, and have indirectly fired shots at each other about their love triangle in multiple songs. Now, it would appear the insults have taken to social media:
As West's attacks continued, it would appear he turned into Yeezus, his stage name and the inner rebel in all of us, writing, "I am your OG and I will be respected as such."
The war ended on somewhat of a positive note, with West deleting most of his tweets and Wiz Khalifa apparently getting even higher than he was when he started tweeting.