Did Kanye Steal Album Title 'Waves' from Max B? Wiz Khalifa Seems to Think So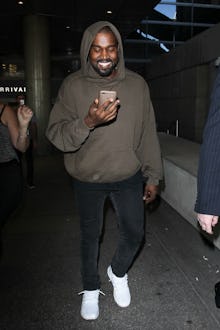 GVK/Bauer-Griffin/Getty Images
Rapper Wiz Khalifa is not pleased with Kanye West's new album title change. After West changed the title of his newest project to Waves Tuesday night, Khalifa took to Twitter to let everyone know about the Harlem rapper who originated the wave movement, Max B.
"Please don't take the wave," Khalifa tweeted, in response to the title change. "Max B is the wavy one. He created the wave. There is no wave without him."
Read more:
Max B, the rap artist Wiz is referencing, started the "wave" movement with his original, melodic, laid-back style. "He's the reason I sing on all my songs. That's the wave," the Pittsburgh rapper wrote in a tweet. 
Kanye tweeted "all respect to Andre Harrell and Max B #Waves," Tuesday, in which he referenced former rapper and industry executive Andre Harrell as a source of inspiration for the album. Wiz replied to Yeezy's tweet with "Yeah aight."
The tweet would later lead to a Twitter war between the artists Wednesday. 
This marks the third title change for West's new project, originally titled So Help Me God, and then later Swish. After tweeting out a new track list of the album, West originally called it "the best album of all time." 
The new album, slated for a Feb. 11 release, will debut at Madison Square Garden in New York.