TJ Miller on Starring in Shock Top's Super Bowl Ad and Why Comedy Sells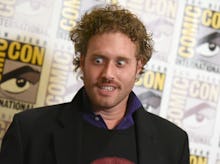 Richard Shotwell/AP
Comedian T.J. Miller, perhaps best known as Erlich in Silicon Valley, said he's looking to take his "absurd" humor beyond television and movies, which, according to him, is part of the reason he's starring in beer brand Shock Top's upcoming Super Bowl commercial. Miller has something many major alcohol, car, fast food and other brands have long used as a marketing tool on game day — humor. 
"We can't have a more positive association with a brand than thinking the company is funny,"  Miller told Mic of the "unfiltered" Shock Top ad, a play on the brand's literally unfiltered beer. The company released a teaser for the commercial Thursday that involves Miller and a talking Shock Top orange beer tap going shot-for-shot with one-liners like "you look like you're on a cleanse that didn't work" and "you look like an out of work magician."
Miller said the type of "unfiltered" humor he employs in the ad isn't about being crass. "I didn't say like, 'trashcan cunt' — it never got to that sort of level — but it's kind of just about being blunt," he said.
Read more:
For brands, the Super Bowl is an opportunity to reach tens of millions of viewers all at once. Companies shell out upwards of $150,000 per second of airtime, according to Forbes. Despite some evidence that the ads may not always translate to huge sales spikes, they can certainly permeate culture in big ways. 
In the teaser, Miller says anyone who doesn't know who he is "must live in a reclusive, strange shack somewhere in North Dakota" — but he wasn't exactly kidding. 
Part of permeating modern culture with his humor, Miller said, is to do comedy in every medium. "You're going to see ads either way, so my idea is at least make it funny," he said. "The idea is to forget tragedy that permeates our everyday life — just for 30 seconds, that's all."
Miller described Anheuser-Busch-owned Shock Top as a "weird beer"; the beer you hope for "when you go into a bar and they say all we have is on draft," which is why he said it's a better fit for him than Anheuser-Busch-owned Bud Light's always anticipated Super Bowl commercial. This year's Bud Light commercial starts comedians Amy Schumer and Seth Rogen. 
"When they see Budweiser and Bud Light ads they're like, 'fuck yeah,'" Miller said. "Shock Top is kind of like, 'This is a great beer, look at our laid back sensibility and this guy with weird facial hair [the beer tap] is our new buddy'."