Kanye West Slut Shamed Amber Rose — And Her Response Wasn't Much Better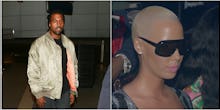 Amber Rose has spent the past year being a fierce advocate against slut shaming. She's written a book about her experiences, filmed a satirical "walk of no shame" video and even organized a Los Angeles SlutWalk event, in which hundreds of women marched to combat the stigma surrounding women who own their sexualities.
And yet! Some people (cough, Kanye West, achoo) are still slut shaming her on social media.
In the midst of the shit show that was Wednesday's Twitter beef between West and fellow rapper Wiz Khalifa, West made a few references to Rose, who is a mutual ex-GF of the pair. The remarks came in at fourth and fifth of a long numbered list (lol) of reasons why West believes Khalifa is dumb and bad. (The tweets have since been deleted.)
Sigh. Yawn. Ugh! Kanye. Why must you insist on repeatedly slut shaming this woman? It's gross and misogynistic!
Later, Rose tweeted her response. She didn't exactly take the high road:
West's most publicized slut shaming of Rose took place last February, when he remarked on the radio that he "had to take 30 showers" after his breakup with Rose, presumably because of her stripping past. 
Unsurprisingly, people 'round the Twittersphere have been noting that it's not cool to be bringing Rose into his spat with Khalifa. Unfortunately, some defenses have been at the expense of West's new wife Kim Kardashian West. (PSA: Two slut-shaming wrongs don't make a right!)
To be fair, Rose responding to West's slut shaming by tweeting about his (alleged) sexual preferences wasn't exactly the classiest way to go, as some people on Twitter are pointing out: 
Still, it's probably time for West to let go, let God in and stop being a douche toward his ex-girlfriend.