The Ye and Wiz Twitter Rant Is Producing the Internet's Best Memes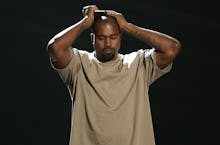 Matt Sayles/AP
When Kanye West goes nuts on the internet, the internet goes nuts on Kanye West. His tweet storm to rival the chaos of Winter Storm Jonas erupted Wednesday, ignited by a feud with Wiz Khalifa. The genesis of the discord has to do with West's decision to change the name of his seventh studio album from Swish to Waves, a decision he announced in a tweet Tuesday night. Wiz claims ownership over the name "waves," an assertion that clearly didn't sit well with West. 
For a full breakdown of what West said, head here. Within minutes of the feud, a veritable gold mine of reactionary content began to populate the social site. 
Read more:
After Twitter calmed down to a degree, West returned to the platform to try and restore a sense of peace. Whether an attempt to regain a sense of normalcy or in a PR damage control, West's pivot from livid to zen was so immediate it seemed less like an authentic statement and more like a scene from Dr. Jekyll and Mr. Hyde.