Amber Rose Has a Successful Career — And It's Not Because She Was a Stripper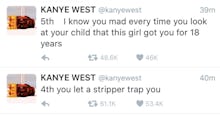 Mic
Model, actress and fashion designer Amber Rose was pulled into a whirlwind Twitter fight between former flames, rappers Wiz Khalifa and Kanye West, who went at each other on social media on Tuesday and Wednesday. 
In a since-deleted tweet, West referred to Rose in a string of insults directed towards Wiz Khalifa, saying "you let a stripper trap you." Amber Rose did work as a stripper for a time, something she has notably defended in the past — and has also become a vocal advocate against exactly the kind of slut-shaming that West was using to try to insult Khalifa.
In the past year, Rose has used her public persona to spread a message against shaming women for the way they dress or for their sexual activities. At the 2015 Video Music Awards in August, Rose showed up to the red carpet wearing an outfit emblazoned with words used to slut-shame women, like "whore," "gold digger" and "stripper."
In September, Rose starred in a parody video that turned a "walk of shame" into a walk of pride, and in October led a Slut Walk in Los Angeles, during which she held up a sign reading "strippers have feelings too."
"I am a former slut-shamer and a newfound feminist," Rose told the Guardian in November. "I've been called a slut while I was still a virgin, I have been called a slut while I was in a committed relationship with my husband ... So it really doesn't matter what you do in life, people can call you that name because they are uncomfortable with your sexuality. That's all it is." 
Rose's high-profile activism against the slut-shaming of women is one of the reasons she's such a familiar face to so many, but she also has a number of professional achievements under her belt as well.
As a model she was signed to Ford. In 2014, Rose and makeup artists Priscilla Ono launched an online clothing boutique, and in 2015 Rose debuted a line of eyewear that she designed. She has also acted professionally, her credits include Inside Amy Schumer, Black-ish and Selfie. She also authored a book, How to Be a Bad Bitch, released in 2015.
Rose has also spoken publicly — and positively — about her work as a stripper. "Oh my god, I had so much fun. I really did," she told Cosmopolitan. "All the girls were really cool. The guys weren't allowed to touch you. I was never sexually assaulted or [anything]. I was young, beautiful, I was onstage, I wasn't really ashamed of my body. I made lifelong friends."