Meet the Gay Christians Who Are Swearing Off Sex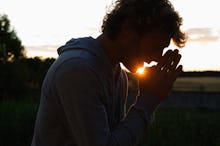 This January, the Gay Christian Network held #GCNconf, an annual summit for queer Christians attempting to navigate the divide between their faith and sexuality. The focal point of this year's conference was a panel discussion between Ron Belgau and Justin Lee, which some attendees compared to the showdown between Manny Pacquiao and Floyd Mayweather. 
The two men had very different answers to one simple question: Should gay Christians have sex?
On one side of the debate was Lee, GCN's founder, who argued the case for "Side A," a term used to describe queer people of faith who believe that God affirms gay relationships. On the opposite end of the ring was Belgau, an openly gay Christian man who believes gay Christian men should abstain entirely from sex. He presented the case for "Side B," the group of queer Christians who, like him, believe that gay sex is a sin.
"By declaring the 'truth of God' that homosexual acts are sinful, the New Testament helps those of us who struggle with same-sex attractions to discover what it means to 'worship the Father in spirit and in truth,'" Belgau wrote on the GCN website. "It is love that inspires me to be celibate: the love of God which gives me the desire to obey His commandments."
Belgau, 40, lives in Seattle and is the co-editor of Spiritual Friendship, a blog that advocates gay Christians remain celibate. He self-identifies as a "Side B" Christian, which means that he adheres to a strict interpretation of the six Biblical verses that appear to condemn same-sex relations, such as Leviticus 18:22: "Do not have sexual relations with a man as one does with a woman; that is detestable." He believes that you can still be queer and Christian, so long as you remain celibate.
While Belgau was raised as a Southern Baptist, he converted to Catholicism at 21. As a teenager, Belgau enjoyed a number of non-physical friendships with other men, which showed him the value of spiritual love; his closest companion is now married to a woman and doesn't identify as queer.
"Out of that friendship, one of the things I realized was that you can have quite a lot of intimacy without sex," he recalled.
The Side B movement is different from the ex-gay movement, the Christian movement that encourages gay people to "convert" to heterosexuality, in that it doesn't teach LGBT people that their desires can be changed. Rather, Side B Christians advocate that queer Christians pursue a kind of deep, non-sexual companionship with others.
"According to Christian writers of the past, spiritual or Christ-centered friendship—the kind of friendship I'm writing about—is a bond between two (or more) people who feel affection for each other," Wesley Hill, author of the seminal Side B text Spiritual Friendship: Finding Love in the Church as a Celibate Gay Christian, told Religion News Service. "It's a relationship that's about helping one another along towards deeper love of God and neighbor."
Seth Crocker, 28, is also a celibate gay Christian. A blogger for Building Bridges in War Zones, Crocker referred to his decision to abstain from sex as a "personal thing," which stems from his belief that being in a relationship with God means making difficult sacrifices.  
"It's about humility—I feel like this is what God teaches in scripture, but I could be wrong," Crocker said. "At the same time, I understand how hard [celibacy] is—how it can feel isolating and lonely—and I can understand why someone would pursue a relationship with someone of the same sex—to have that love and companionship."
Crocker chose to become celibate after entering Exodus International, a now-defunct nonprofit aimed at converting gay men to heterosexuality, during his senior year of college. "I didn't understand how I could be gay and be in a relationship with God," he said of his decision to enter the ex-gay movement. "I felt like as long as I was pursuing straightness, God would make me OK."
After Exodus' plan for change didn't work, Crocker left the ex-gay movement when he was 22. He felt intense anger at the religion he grew up in. "I was mad at God," he said. "I thought God failed me." A year later, Crocker decided to become celibate. 
What resonated with Crocker about celibacy was that it offered a rare positive outlook for those who might be struggling with their sexuality.
"I think it's quite liberating when you can look past that to see what the Gospel is actually saying—that we're called to be like Christ, who did not have a significant relationship with another human being," Crocker said. "It's an amazing model of what we can do. It can be a really fulfilling life when we feel called to something outside of ourselves."
Crocker believes that such a self-empowering message is important in a culture that places such a heavy focus on marriage and romantic fulfillment. "We tend to put too much focus on our relationships—all my identity, all my worth comes from this other person," he said. "Your life doesn't begin when you're in a relationship. My life is happening right now."
While Crocker doesn't always live up to his goal of totally abstaining from all sexual pleasure—masturbation is a chief temptation—he believes celibacy is about recognizing your own humanity. "I'm not perfect, but I'm open about that," he said.
Ron Belgau agrees that the focus of celibacy should be about what you get, not what you're giving up. "We're interested in making celibacy more about focusing on serving God and a way of helping other people rather than focusing on what we can't do," he told Mic. For Belgau, not having sex or dating allows him to have a more direct, personal relationship with God.
That commitment, of course, comes with challenges, and Belgau is well aware that many queer people view Side B Christians as repressed or judgmental. "Some people... feel like there's an implicit judgment of their life just in the fact that I say I'm celibate and believe that's what God wants for my life," Belgau told Mic. "They believe that's an attack on them."
Belgau said that's why Christians need to work together to support celibate gay men in the community, regardless of whether or not they agree with their personal views. "I think it's important to have the conversations about how to build these communities so that in 30 or 40 years, it won't be as bleak for me as it now," he said.
In order to do that, Crocker argued, Side A and Side B Christians must come together and recognize that both of the ways each group expresses their sexuality can be valid. He referred to the dominance of one side over another as the "danger of a single story" — whether that means "becoming" straight, getting married and raising a family, or opting for a life of chastity. "We think that this is the only narrative, but it's not."
Correction: Jan. 28, 2016