The Kanye West-Amber Rose-Wiz Khalifa Love Triangle That Sparked Yeezy's Twitter Tantrum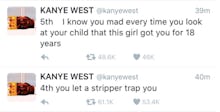 Mic/The Mind of Myron
Kanye West went HAM on Wednesday on Twitter. Yeezy really worked himself into a frenzy after Wiz Khalifa tweeted a series of allegations that West had stolen the new name of his forthcoming album, Waves, from incarcerated rapper Max B. Not one to sit silently while his good name is dragged through the mud, West went off on Wiz in a string of Twitter zingers that have since been taken down. 
Within the maelstrom of insults, West mistakenly believed Wiz went after his wife, Kim Kardashian West, prompting West to land the blow that set social media on fire: He called out Amber Rose, apex of the love triangle that binds him and Khalifa together. And how things spiraled from there.
Read more:
"You let a stripper trap you," he tweeted. "I know you mad every time you look at your child that this girl got you for 18 years." Indeed, Rose was once a stripper, among various other occupations. 
Then, shortly thereafter, "You wouldn't have a child if it wasn't for me," he tweeted. "You own waves???? I own your child!"
Rose has dated and publicly sparred with both artists, so naturally, she did not sit quietly on the sidelines. She came in swinging, tweeting, "Awww @kanyewest are u mad I'm not around to play in ur asshole anymore? #FingersInTheBootyAssBitch."
What precisely went down here? West, Khalifa and Rose went head to head for a rousing round of trolling, one fueled by their mutual resentment of one another for various romantic wrongs. Here's a brief explanation of a complex relationship web.
All the love lost: Rose and West are infamously unfriendly exes, having dated from 2008 to 2010. The relationship reportedly began after West saw Rose in a 2008 Ludacris video and proceeded to woo her. As Rose told Star magazine, they called it quits because West had been cheating on her with the woman who would become his wife.
"Kim is one of the main reasons why me and Kanye are not together," she said. "She's a homewrecker!"
Because of the homewrecking, Rose has bad blood with the extended Kardashian family. In 2015, she criticized rapper Tyga for his relationship with the much younger Kylie Jenner, which turned into a feud with Jenner's older sister, Khloé Kardashian. Then West got involved, saying in an interview that his wife had required him to take 30 showers before she'd sleep with him, so offensive did she find any trace of Rose. Obviously, this didn't sit well with her. Thus the animosity.
How does Wiz Khalifa fit in? Rose began dating Khalifa in 2011; one year later the pair got engaged; a year after that, they married; in 2013, Rose gave birth to their son, Sebastian; then in September 2014, Rose filed for divorce as rumors swirled of infidelity. After the split, relations were tense to say the least: Khalifa came out with a song entitled "For Everybody," about a stripper who leverages sex into social mobility. The reference was not lost on Rose, but she publicly forgave Khalifa for that barb and others at her 2015 Slut Walk, an event she organized in protest of — wait for it — West's shower comment. 
Rose and Khalifa have attempted to mend fences and continue to co-parent their child. So, their relationship is neither wonderful nor terrible. They're still involved in their way, and so when Khalifa calls West's wife into a heated Twitter exchange, Rose is the most obvious target for West to hit.