Nickelback Is Working on New Music — Does Anyone Care?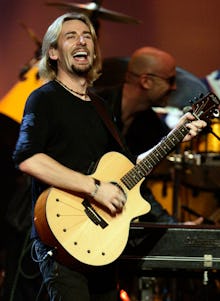 Jeff Christensen/AP
Nickelback, the band synonymous with "terrible music" is reportedly working on a new album, and the real question is, who asked for this? Nickelback announced Monday via its Twitter account that they are "working on new music," and then inexplicably included a shoutout to Kanye West.
Nickelback's most recent album was 2014's No Fixed Address, which prompted Rolling Stone to say in its review of the album that the members of Nickelback, Chad Kroeger, Ryan Peake, Mike Kroeger and Daniel Adair, are "masters of generality, packaging all the bland blue-collar fantasies and unrequited nostalgia of an According to Jim rerun into formulaic head-nodders."
No Fixed Address debuted at No. 4 on the Billboard 200 chart and No. 1 on the top rock albums chart.
Read more:
Nickelback hasn't offered a release date, or even a name, for a potential album, but the announcement that they were working on new music has already spurred a flood of responses on social media.
But some Nickelback lovers are psyched for the new music. To each their own.
Correction: Jan. 28, 2016