Premiere: Poliça Delivers a 'Sesame Street'-Styled Lesson in Police Brutality in "Wedding"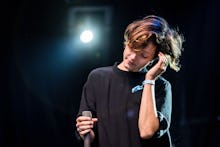 Sesame Street never depicted streets like these. 
In their new video for "Wedding," premiering Thursday on Mic, indie synthpop group Poliça offers grave lessons about civil liberties in the lighthearted form of a Sesame Street puppet show. With the help of a colorful, fuzzy crew, lead singer Channy Leaneagh teaches a group of kids how to craft breathing masks (with lots of glitter and tassels) and how to address an officer who's attempting to enter one's home.
Directed by Isaac Gale and featuring puppets from master puppeteer Joe Midthun, the song and video serve as the second single from Poliça's upcoming album, United Crushers. As irreverent and subversive as the video might seem, its aim is ultimately to empower.
"I'm a parent; I have kids and live around kids and live in my community," Leaneagh told Mic. Her daughter and several of her friend's children appear in the video. 
"I think we're running out of time to make big changes within my life," she said. "But we wanted to use that format of Sesame Street, where all of us learned so many things, to try to teach the younger generation how to stand up for themselves, and not be apathetic. We want to raise kids that can fight back. We want to raise kids that know their rights and are strong, and are always questioning."
The band started work on "Wedding" and its video concept long before police brutality became a national talking point following the events of Ferguson, Missouri. "It talks about this wedding, a reference to the drug trade and the militarization of police," Leaneagh said. She describes the glamour shots of police officers posing with the bounty from SWAT raids, the stacks of coke and heroin bundles. 
Leaneagh said this contraband frequently helps fund police departments and encourages them to pursue more militarized tactics. It's a huge issue in Minneapolis, she added, from where the band hails. The state's police departments maintain millions of dollars in military equipment, even in small rural towns where there's little crime.
"We see it in our own cities now, where cops are bringing out tanks for protests, and tear gas, and nonviolent protesters are treated as an occupied people — especially with black people and people of color," she said. "When America talks around how bad other countries treat their citizens, this and that, inferring human rights offenses. It's something I think our own country needs to look at, the way we treat black people protesting."
With this song and video, their hope is that a new national self awareness can start with the children. Watch the video below.
Directed by: Isaac Gale