More Americans Have Died in 53 Years of Gun Deaths Than in All US Wars Combined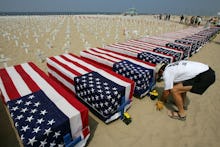 Another day, another staggering statistic.
As fierce defenders of the Second Amendment continue to look the other way on the issue of gun control, a chilling statistic is again making the rounds: More Americans have died by firearms since 1963 than in all U.S. wars combined. 
Taking into account the conflicts and skirmishes the United States has been involved in since — the end of the Vietnam War, the Gulf War, the wars in Afghanistan and Iraq and the fight against ISIS, to name a few — PolitiFact has confirmed the data twice before. 
At a Jan. 18 rally in front of the Richmond, Virginia, General Assembly where lawmakers will consider 100 gun-related bills over the next two months, protesters handed out fliers listing the statistic, making the fact-checkers at PolitiFact wonder: Is this still the case?
Using the Congressional Research Service's data from January 2015, PolitiFact determined that the number of war deaths since the Revolutionary War amounts to almost 1.2 million. They note that one hitch in the findings is the significant disparity in estimates on Civil War deaths. Taking into account the highest estimate would bump the total to 1.4 million. 
The outlet contrasted this number with those reported by the Center for Disease Control and Prevention, which has published annual reports on gun deaths (suicide, homicide and other gun-related accidents) since 1968, a total of 1.5 million. Since the oft-cited statistic used by protesters uses 1963, the year of John F. Kennedy's death, as a starting point, PolitiFact used the number of deaths that occurred in '68 according to the report — 24,000 — to extrapolate the data, and ultimately arrived at an estimated 1.6 million gun deaths.
When PolitiFact first conducted this study in 2013 after it was cited on PBS NewsHour, the number of war deaths was around 1.2 million, while gun deaths edged ahead at around 1.4 million. Two years later, the New York Times' Nicholas Kristof cited it in a piece after a gunman killed two reporters on air in Virginia. Again, PolitiFact crunched the numbers, which closed in at a ratio of approximately 1.4 million to 1.5 million. 
True and true. 
The data shows that while combating terrorism is among the foremost concerns for Americans who'd rather confront gun deaths with "thoughts and prayers," taking action on gun control might be the most effective way to keep a greater number of Americans alive.
Remember: The numbers don't lie.