How the World's Unluckiest 3-Legged Pit Bull Stopped an Armed Robbery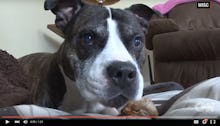 A 15-year-old pit bull is getting some well-earned praise this week after he saved his owners, Darcy Cherry and Bob Stenzel, from an armed robbery — taking a bullet to his shoulder the process. 
Three-legged Levi was sitting with his family in Janesville, Wisconsin, when an armed intruder stormed the house on Jan. 19 and demanded money and the location of a safe.  
The intruder forced the pair to lay on the ground and "repeatedly asked us where's the safe and where is the money." Cherry told local television station WISC. The gunman, however, may have seen too many moves as there was no safe nor stashed pile of cash hiding beneath the floorboard. 
During the tense standoff, Levi began barking and in the process took a bullet to the shoulder before the attacker fled without taking anything.
The assailant is still on the loose; Levi is expected to make a full recovery, WISC reported.
The recent incident was not Levi's first brush with heroism. Levi's leg was amputated in 2014 after the he tumbled off a trail's edge; Cherry's son was following close behind, she said, and would have fallen off too had Levi not taken the tumble first. The leg was completely shattered. He also reportedly survived a dog-napping two years ago. 
The good news about Levi will be especially refreshing to pit bull lovers and advocates who have denounced against a slew of punitive measures against the breed, which has developed a reputation for being uniquely dangerous. The city of Denver has an outright ban on the dog, which it regulates under its dangerous dog breed ordinances. The same goes for anyone living in Miami, where pit bull owners face a $500 fine. The local Miami-Dade county government even provided a hotline for people wishing to report violators.
Some have even advocated eradication. In 2005, then-Premier of New South Wales Bob Carr didn't mince words when he said, "We want to breed these dogs out of existence," according to the Sydney Morning Herald. "They are killing machines on a leash."
But if the example of Levi is any guide, it may be time to throw the breed a bone... and Levi a couple thousand Beggin' Strips.