Rihanna's Tame Impala Cover "Same Ol' Mistakes" on 'Anti' Proves She Can Do Psych-Rock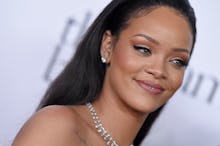 Axelle/Bauer-Griffin/Getty Images
With Anti, Rihanna can add yet another genre to her résumé. The highly anticipated eighth studio album, which officially came out on Tidal on Wednesday, consists of 13 songs, each one distinct in sound. But one song in particular may sound eerily familiar to fans of psychedelic rock.
Her ninth track on the album, a song called "Same Ol' Mistakes," is actually a cover of Australian band Tame Impala's sad-but-deep "New Person, Same Old Mistakes," which is off its highly acclaimed, Grammy-nominated LP Currents, Billboard reported. The unexpected step makes sense, since throughout her career, Rihanna has made a name for herself in all sorts of genres, such as pop, R&B, EDM and her dancehall vernacular. And the song choice couldn't be better.
"New Person, Same Old Mistakes" is Currents' closing song, and frontman Kevin Parker's way of anticipating criticism for the album's philosophical take and more electronic sound, Stereogum reported in July. Currents itself is an emotional, self-aware and extremely relatable collection of songs that dive deeper than usual into a listener's life experiences — mostly bitter and intricate heartbreak. "It's actually telling someone, 'I know what you think I'm doing is fake,'" Parker told Stereogum. "I know you think it's like a sellout move. You think that this isn't real, but hey, you know what? Maybe I like fake." He later called the song the "final showdown between this side of you that is embracing change and there's a side of you that's resisting it."
So in Rihanna's case, with an album that's waited four years to drop, "New Person, Same Old Mistakes" is actually the perfect choice.
Read more:
Lyrics: Rihanna uses the same lyrics as Tame Impala's, provided by Genius.
I can just hear them now/ "How could you let us down?"/ But they don't know what I found/ Or see it from this way around/ Feeling it overtake/ All that I used to hate/ Worried 'bout every trait/ I tried but it's way too late/ All the signs I don't read/ Two sides of me can't agree/ When I breathe in too deep/ Going with what I always longed for
Her rendition uses the same beat as Tame Impala's, and her voice follows as low and dreamy. "'New Person, Same Old Mistakes' has hints of shimmering Philly soul, there's also engagement with the dubby textures and repetitive melodies of purple R&B," according to Pitchfork's review of the song. As if saying it straight to her fans, she sings that she "feel[s] like a brand new person" in the song.  
Billboard reported back in March Rihanna said she wanted to focus on more "soulful" things that "felt real." With the help of Tame Impala, "Same Ol' Person" could be considered a success. 
At least, the fans who are rejoicing over the musical intersection think so.
Correction: Jan. 28, 2016