These Numbers Could Be Bad News for Donald Trump and Bernie Sanders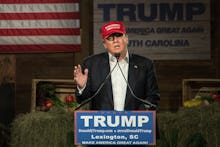 Four days before the Iowa caucuses, the two parties' outsider candidates look poised to exceed initial expectations. Donald Trump has moved into a modest but sustained lead over Sen. Ted Cruz of Texas in the Republican contest, while Sen. Bernie Sanders of Vermont is locked in a dead heat with Hillary Clinton on the Democratic side. 
But voter registration figures suggest Sanders and Trump may have difficulty converting grassroots enthusiasm into actual turnout on caucus night.
As the New York Times' Nate Cohn details, Iowa hasn't seen a big spike in voter registration ahead of Monday's caucuses; in recent months, Cohn reports, the Hawkeye State's voter pool has increased by only about 10,000. By contrast, Cohn notes, voter registration increased by 17,000 people over a similar period in 2008, when then-Sen. Barack Obama rocketed to victory on strong turnout in the Democratic caucuses.
Why it matters: The slower pace of voter registration growth could portend bad news for Trump and Sanders, given that both candidates draw their support heavily from political newcomers and irregular caucusgoers. 
A Monmouth University poll released Wednesday projected that if 170,000 people participated in the GOP caucuses, Trump would win with 30% support, followed by Cruz at 23%, Sen. Marco Rubio of Florida at 16% and Ben Carson at 10%. But if turnout were only 130,000 — still more than 122,000 who caucused on the GOP side four years ago — Trump and Cruz would be tied at 26%, followed by Rubio at 15% and Carson at 12%.
Sanders is also counting on a surge in turnout, particularly from younger voters. The most recent Bloomberg Politics/Des Moines Register poll of likely Democratic caucusgoers found that Sanders bested Clinton 52% to 34% among first-time caucusgoers, while she won 45% to 36% among those who said they'd caucused before, a strong predictor of future turnout.
In encouraging news for Trump, Cohn noted that new Republican registrations have occurred at a much faster clip than Democratic ones.
A few caveats: The modest increase in voter registrations doesn't prove turnout will be low Monday night. For one thing, it's quite plausible that turnout will be higher than usual among those who have already registered to vote. What's more, Iowa allows same-day registration for caucus participants. 
And while a surge in turnout would be a boon to Sanders and Trump, they don't exactly need record-breaking numbers to pull off victories: If Sanders is within single digits of Clinton among previous caucusgoers, as the Bloomberg Politics/Des Moines Register survey suggests, then he can't be discounted as a real threat to her. And if Trump more or less ties Cruz even in a low-turnout scenario, as the Monmouth poll indicates he would, then he may well come out of the caucuses ahead in the delegate count.
So the voter registration statistics haven't given Sanders and Trump the morale boost they'd like. But writing them off would be, as they both might say, a yuge mistake.
Jan. 28, 2015, 11:30 a.m.: Citing the New York Times' original reporting, this post initially stated that new Democratic registrations were outpacing new Republican registrations. This has been updated to reflect the Times' correction.