Nubian Skin Is Helping Women of All Shades and Sizes With a Major Style Struggle: Tights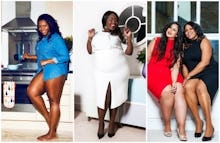 The British company Nubian Skin is known for redefining what "nude" really means by finally making lingerie for women of a variety of shades. Now it's making another move to address a more diverse group of women, and it's doing it with tights.
Nubian Skin has launched Curve, a line of plus-size tights and hosiery that's available in up to a size 3XL. They come in shades like café au lait, cinnamon, berry and caramel to match the wearer's skin. 
Previously, the company stocked tights in the same variety of darker shades, but only up to a size large. After receiving lots of feedback that they should offer plus-size sizes, the company decided to make the move. 
"We knew standard sizing covered a limited portion of the market, so it was always the plan to expand the size range if we were able to," Amy Lodder, a spokesperson for Nubian Skin, told Mic. "Fortunately, the hosiery has sold well and we decided to invest in expanding the range, and customer feedback also helped reinforce the decision."
According to Nubian Skin's social media, there was clearly a demand. Comments on the company's Instagram posts range from, "Yes! I was so excited to see the curve hosiery!" to, "I'm so grateful for @nubianskin. Finally something thats just right for me!" and, "Been waiting a longggggg timeeeeeeeeeeeeeee." 
Nubian Skin, which was launched by Ade Hassan in England and came to U.S. stores in July, was incredibly particular about the kinds of fabrics and processes it used. The tights that are on sale now online use Lycra Xceptionelle for extra stretch, which helps both the curvy woman and women who are super tall. 
According to Lodder, the fabric and design also "eliminates the need for additional panels, which is traditionally how plus-size hosiery is made, so it offers more comfort and a better all-[a]round fit. They're also really comfortable — the tights won't dig in or have an annoying low crotch." 
Oh, and there's no separating the plus sizes from the smaller ones: On the Nubian Skin website, the plus-size tights are displayed alongside the others and look nearly identical. 
Nubian Skin has profited greatly from being one of the most inclusive brands of underwear (and now hosiery) out there. Just one month after its launch in Nordstrom stores this past July, the company told Mic that women were blowing up its social feeds with enthusiasm over how, finally, they could find a bra that was their shade of "nude." Although Nubian Skin wouldn't reveal sales numbers, a spokesperson said that they were "very pleased with our launch at Nordstrom so far."
As conversations about diversity grow louder and more shoppers become vocal about their needs (in no small part thanks to social media), more companies are creating clothes that acknowledge the diversity of shoppers — their bodies, their skin colors, their tastes. 
Redefining the word "nude" is but one of these changes: Along with Nubian Skin, Christian Louboutin unveiled a collection of heels in 2013 in a variety of shades of beige and brown so women of all skin tones could their own "nude." In 2015, he added two more shades to his collection. 
The next step for inclusivity? Catering to women with even bigger bras, which currently only go up to a size 40DD. A rep for Nubian Skin told Refinery29, "We're working on expanding our cup sizes, so that's the next focus area for us." According to Nubian Skin's Instagram, fans should expect that in the spring. 
If the reaction is anywhere similar to what it was for the multi-shade bras and plus-size tights, we bet there are women waiting in the wings for more options.