Chicago Police Have Been Sabotaging Their Own Dashboard Cameras on Purpose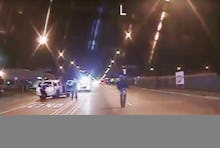 Just when you thought the scandal-ridden Chicago Police Department was ready to collapse under the weight of its own idiocy, it goes and does something like this. According to DNA Info, 80% of dashboard cameras in CPD patrol vehicles don't record audio — either because officers are activating them incorrectly, or because they're intentionally damaging or concealing them.
This troubling revelation sheds light on what happened the night of Oct. 20, 2014, when Officer Jason Van Dyke — who was recently released on bond after being charged with first-degree murder — shot and killed a 17-year-old black boy named Laquan McDonald. The incident was recorded by multiple police dash cameras, but many of them did not record audio, including Van Dyke's.
In Van Dyke's case, the reason for this is now clear: He'd intentionally made his camera not work. The 15-year veteran took the camera from his patrol car to the department's maintenance team in June 2014, three months after reporting it broken, and repairs were completed June 17. The next day, the camera was suddenly broken again. Then, on Oct. 8 — 12 days before Van Dyke killed McDonald — the maintenance team fixed it for a second time, citing "intentional damage" as the reason for its malfunction.
The night of Oct. 20, the same camera wasn't recording any audio. Investigators concluded this was because the microphone had not been synced.
The camera's repeated breakdowns and mysterious failure to record sound appear to be part of a larger pattern in Chicago. Technicians have identified 90 cases between September 2014 and July 2015 where CPD officers had actually hidden their dashcam mics in the glove compartment of their cars, while in 30 other instances, there was evidence that recording devices were "intentionally defeated" or not activated by police personnel, DNA Info reported.
Such dogged commitment to maintaining a lack of transparency is a big reason why people in Chicago are so fed up with their police. The public release of the McDonald video in November sparked weeks of protests and calls for the resignation of Mayor Rahm Emanuel, followed by the announcement that the U.S. Department of Justice would investigate the practices of the CPD.
By circumventing dashcam protocol and ensuring no sound is captured, police officers are eliminating a key component of the recording process. This week, a police body camera recording from Oakland, California, revealed that a 51-year-old man named Hernan Jaramillo had said, "They're killing me right now ... I can't breathe," as officers pressed their knees into his back. Jaramillo's family recently settled a civil rights lawsuit with the city for $450,000 — an endeavor that was largely successful because of evidence from that recording.
Meanwhile, another audio recording — this time from a cellphone camera — played a key role in helping people understand the circumstances around 43-year-old Eric Garner's death in July 2014. "I can't breathe," Garner said, repeatedly, as police officers in Staten Island, New York, wrestled him to the ground and choked him to death.
Interim Chicago Police Supt. John Escalante responded to the revelations by formally reprimanding some officers, and by suspending others for up to three days. "To boil this down, the police department will not tolerate officers maliciously destructing equipment," police spokesman Anthony Guglielmi told DNA Info. "Supt. Escalante sent a very clear message and has held people accountable. And since we took that corrective action, we have seen a more than 70% increase in the amount of [video] uploads at the end of each tour."