Rihanna "Consideration": Full Lyrics and Meaning of the First Track on 'Anti'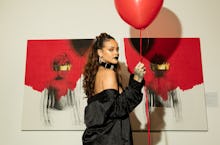 Christopher Polk/Getty Images
After much hype, Rihanna's long-awaited eighth studio album, Anti, finally dropped on Wednesday night. The 13-track album kicks off with "Consideration," featuring singer SZA. The song is a blazing reintroduction to a changed Rihanna, featuring allusions to the singer's return to the spotlight, with lyrics such as, "I come fluttering in from Neverland," and, "I come riding in on a pale, white horse."
"Consideration" lyrics: The song also speaks to the darker side of fame, addressing a nonspecific "you" that could be an individual, but may also be a stand-in for a demanding audience. "Why you will never let me grow?" is as much a cry from an artist to her fans as it is something a stifled lover says to her partner. "When I look outside my window/ I can't get no peace of mind," is both about general malaise and, perhaps, about life with an endless crew of paparazzi following you around. 
Read more:
The vocals end a good 20 seconds before the beat does, wrapping-up Anti's first track on a note of somewhat somber expectation. It isn't exactly the type of bouncy, pop hit that will get a lot of play at parties, but "Consideration" is a fitting start to an album that seems to be about challenging what a devoted audience thinks they deserve from Rihanna. The full lyrics to "Consideration" can be found on Genius. 
The lead-up to the release of Anti was prolonged (and pretty painful for Rihanna-lovers who were waiting anxiously). In the many months before the surprise release of the album, Rihanna teased fans with AntiDiary.com, a preview site that released information and clues about Anti piece-by-piece. 
The final reveal, on Wednesday night, came, somewhat anti-climactically, after the full record leaked online earlier that day. Despite the pain Rihanna put her fans through for Anti, though, the quality of the music is likely to win her their love and forgiveness. Thanks, RiRi.