J. Cole Releases 'Forest Hills Drive: Live' — Here's What You Need to Know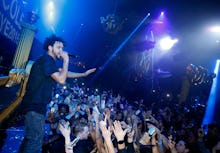 Isaac Brekken/Getty Images
With a diss track that features astrophysicist Neil deGrasse Tyson, Rihanna finally releasing her highly anticipated album Anti and the Twitter beef between rappers Kanye West and Wiz Khalifa regarding Yeezy's newest album, title Waves, 2016 is already shaping up to be an interesting year. On Thursday rapper J.Cole added on to the hype. To celebrate his 31st birthday, the North Carolina-raised artist released a live version of his Grammy-nominated 2014 album 2014 Forest Hills Drive. The Roc Nation artist's Forest Hills Drive: Live is available for purchase on iTunes.
The 13-track Forest Hills Drive: Live covers Cole's 2015 show at Fayetteville, North Carolina's Crown Coliseum from his documentary Forest Hills Drive: Homecoming. The concert special, which aired on HBO, is available to watch on HBO's streaming service. 
Read more:
Track list: The track list consists of all of the songs from his 2014 Grammy-nominated Forest Hills Drive, as well as an assortment of past hits "In The Morning," "Lights Please" and "Nobody's Perfect." 
1. "Intro"
Twitter reacted to the rapper's birthday gift to the public, singing praises of the N.C. artist's newest release. 
In November J. Cole teamed up with rapper Kendrick Lamar to drop the surprise tracks titled "Black Friday." The two artists sparked an uproar online about whether they were working on a collaboration album, after the surprise tracks featured Lamar borrowing J. Cole's "A Tale of 2 Citiez" beat and J. Cole spitting over Lamar's hit track "Alright."