"Never Ending" Lyrics: Rihanna's Heartbreak Song Sounds Like Dido's 1998 "Thank You"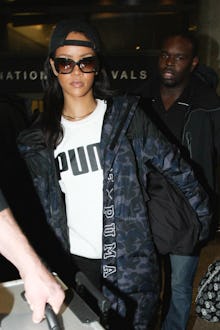 GVK/Bauer-Griffin/Getty Images
The melody to Rihanna's quintessential heartbreak song "Never Ending" off her new album Anti, released Wednesday night after several months of anticipation, has a strangely similar tone to Dido's song "Thank You," first released on the 1998 soundtrack for the film Sliding Doors and as a single in 2000. That's because Dido and Paul Herman, the same duo that penned Dido's hit love song that served as the first verse to Eminem's "Stan," are in the writing credits for Anti. 
"Never Ending" lyrics: The two songs have similar melodies but opposite meanings. Dido's 2000 "Thank You" was an appreciative love song; Rihanna's "Never Ending" seems to be about the trouble with falling in love again after heartbreak. "Slipped into a peril that I'll never understand/ This feeling always gets away," she sings in the chorus. "It doesn't have to feel so strange/ To be in love again." The full lyrics are available on Genius.
Read more:
Anti is Ri's first album in almost four years, so naturally, fans rejoiced when she dropped it on Tidal Wednesday night after reports suggested she'd release it before Friday. The response on Twitter was utter praise, with fans saying, "This is the album I've wanted from Rihanna," and, "I am in tears." Rihanna had a burst of love about the positive feedback to the album Thursday, tweeting that it made her "the happiest girl in the world" and is "the most rewarding feeling."