Rihanna's "Needed Me" Is an Empowering Anthem for Women — Here's Why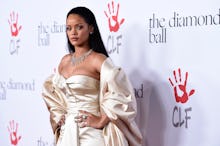 Jordan Strauss/AP
Rihanna's new album Anti, which dropped on Tidal on Wednesday, doesn't fall short on RiRi's badass-girl attitude. After years of waiting, fans were finally blessed with her eighth studio album, which enlisted the influences and help from a wide variety of artists, such as Dido, Tame Impala and Drake. For her seventh track, called "Needed Me," Rihanna enlisted the help of DJ Mustard (who worked with Travis Scott, the opener for her upcoming tour). MTV reported in 2014 the two were collaborating.
"Needed Me" is strong, electronic, bass-ridden track that could potentially go to anthem status, thanks to its girl-power lyrics. In them, Rihanna basically tells off anyone trying to cling to her and ruin her independent status, declares herself a "savage" and swears off a "white horse and a carriage." Go, girl.
Read more:
"Needed Me" lyrics: Rihanna sings straight to her unwanted suitor in her lyrics, provided by Genius. 
I was good on my own/ That's the way it was/ That's the way it was/ You was good on the low for a faded fuck/ On some faded love/ Shit, what the fuck you complaining for?/ Feeling jaded, huh?/ Used to trip off that shit I was kickin' to you/ Had some fun on the run though/ I give it to you
"We're going straight to the club," DJ Mustard told HipHollywood in December 2013 about the track he was working on. "Whatever I do is going to the club."
Fans who heard the song immediately related, finding it empowering, with one user saying her song "just described the last two years" of her life. The same user also praised Rihanna for finally dropping a song dedicated to "female savages." Another user tweeted that she was "literally in tears" from "Needed Me."
Jan. 28, 2016, 12:11 p.m. Eastern: This story has been updated.