Rihanna's 'Anti' Defies Every Expectation of What a Rihanna Album Should Be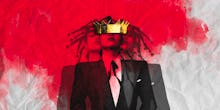 When a fresh-faced Caribbean girl arrived in the United States with "Pon De Replay" in the summer of 2005, few understood the level of talent they were dealing with. Summer jams come and go, as do their one-hit wonders, and for a moment, Robyn Rihanna Fenty looked like she might become the same. However, Rihanna found her lane: a collision of pop and dancehall matched with a notorious good girl gone bad personality. A decade later, Rihanna is once again breaking the mold surrounding her, finally introducing 2016 to the rebellious world of Anti. 
Everything about Rihanna's eighth studio album feels like a breakaway from the consistency her career once had. Up until four years ago, Rihanna was releasing new content nearly every single year. Most of her albums felt as though they were general continuations of the ones that came before, with staples found in each release. 
There was always a piano ballad where Rihanna attempted to flex her vocals, a clustering of top 40 club hits, a number of singles produced by rising stars in the music industry and a few underrated tracks which crawl to the surface after the marketing wave passed.
Anti refuses to be the same.
"I gotta do things my own way, darling," Rihanna sings in Anti's first chorus on "Consideration," featuring Top Dawg Entertainment signee SZA. "Will you ever let me? Will you ever respect me? No. Do things my own way darling, you should just let me, why you will never let me grow?"
From start to finish, Anti is the antithesis of the standard Rihanna album. Even before its release, Samsung sponsored a confusing and exhaustive online marketing campaign for Anti, using the #AntiDiary hashtag. Rihanna helped, tweeting the release of mysterious virtual "rooms" that revealed clues and surprises for those who cared to follow the tiring journey. The campaign also hosted live events across the United States, where some of Rihanna's most devoted fans went on a secretive journey and were rewarded with a key.
However, none of it seemed to quite add up. The monthslong marketing campaign was only a reminder for fans this was the longest time they had ever waited for new music from her. Yet, right when the world seemed to give up hope, she donned a $9,000 pair of Dolce and Gabbana headphones and dropped a selfie on Twitter, announcing she was listening to her forthcoming album. Two days later, Anti was born, and what a beautiful, strange creature it is.
The album doesn't immediately aim for the heartstrings, like many of her previous do. Rihanna saves her vocal range for songs like "Love on the Brain" and "Higher," while the album's first single, the stripped-down dancehall track "Work," offers her most relaxed pairing with Drake yet. The song casually offers some of the best lyrics written by Ri, including: "Nobody touch me in the righteous, nobody text me in a crisis."
The rest of Anti cascades over several musical eras. From the classic '60s rhythm and blues — not to mention an uncanny resemblance to Beyoncé's "Superpower" — found in "Love on the Brain," to the subtle notes of '70s vintage heard in "James Joint."
The album isn't without its flaws. Rihanna misses on "Same Ol' Mistakes," a take on Tame Impala's original "New Person, Same Old Mistakes," released in 2015. It feels out of place on Anti, and unnecessary detour on the album's already winding journey through genre. The chorus in "Kiss It Better" may turn out to be a crowd favorite, but it takes a long while to get to. And while featuring the "glitter-trap" outlier SZA on "Consideration," arguably the best track off the album did lift Anti up a notch, it would have been equally exciting to see Rihanna paired with fellow rising talents in couture hip-hop, such as Vic Mensa or A$AP Rocky.
Anti doesn't feel as though it's missing anything, however, again unlike several of Rihanna's former albums. In fact, for the first time, Rihanna offers more than enough on her eighth album, and that's on purpose. 
The 27-year-old finally has the confidence to take risks, several of them in a single project, all at once. It's an important turning point in her career, and it will likely prove to be of the biggest musical releases in nearly five years. However, what cues the pop music industry will take from its elusive release and ambitious songwriting is difficult to predict. 
In fact, even now the world has Anti, it somehow still feels as mysterious as it did when it was nothing more than Twitter whispers. What happens next only Rihanna may know.