Barbie Debuts Curvy, Tall and Petite Dolls for Body-Positive Makeover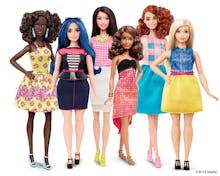 For more than 50 years, Barbie has been a icon of fashion and beauty — and body type. Now, Mattel is doing something to forever change what Barbie can actually look like. It's introducing three new body types: petite, curvy and tall.
Here is what the new gaggle of girls looks like: 
Aren't they cute? 
Already available for pre-order on Mattel's website, the dolls are members of Barbie's Fashionistas Line. As Cosmopolitan reports, there are four total body types to choose from, along with seven skin tones and 22 eye colors. 
According to Time, which has made the Barbie change its cover story this week, Mattel is aiming to make the new diverse dolls "more closely reflect their young owners' world." 
The move is an incredibly important and powerful one. The brand rakes in $1 billion in sales across more than 150 countries annually, Time reports, and 92% of American girls ages 3 to 12 have had a Barbie. A doll so widely held as a standard of beauty finally changing her look means that most American girls have another major opportunity to see a different kind of beautiful.
Creating more diverse bodies was a logistical challenge, like now having to carry two different sizes of shoes for the new girls. But Barbie has already, slowly but surely, been working to diversify its dolls. Before changing Barbie's figure, Mattel experimented with her hair, like dreads for Zendaya's doll and braids for Ava DuVernay's hugely popular one. Some of the dolls also now come with flat feet, so Barbie isn't forced into high heels all the time (and can rock the latest sneaker trends).
What all this change means for the millions of girls who buy the dolls is that a Barbie doesn't have to look one way in particular or wear one thing in particular — just like real girls.
Online, praise for the dolls has started rolling in almost immediately, especially from body positivity activists:
(Although it has found criticism in an unlikely place.)
"This is radical because we're saying that there isn't this narrow standard of what a beautiful body looks like," says Robert Best, senior director product design for Barbie, in a new video released on YouTube today. 
Or, just take it from real little girls, whom the video shows playing with the new dolls: "I like 'em because this one looks like me and this one looks like my mom."
Say it together now: Awwww.
Get the five stories that will challenge you to rethink the world by signing up for MicCheck Daily.