Rihanna's 'Anti': Track-by-Track Review and What the Critics and Fans Are Saying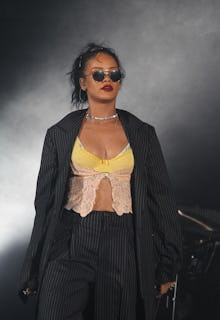 mpi21/MediaPunch/AP
If you've been away from the internet for the past few days, a lot has happened in the music world. Kanye West and Wiz Khalifa's feud escalated into an all-out Twitter war and was followed up by the much-anticipated release of Rihanna's eighth studio album, Anti. The album is available on Tidal, and already fans and critics have a lot to say about the 13 tracks and what it means for the Barbadian songstress. 
Read more:
"Consideration" feat. SZA: The song is short — clocking in at 2:41 — but is a strong introduction to the album that indicates she'll be stretching out the depths of her musical versatility, contrasting with the smoother voice of alt-R&B singer SZA. "[The song's] sonic lightness is a bit of a red herring on an album that favors the moody and the minimal," Michael Cragg wrote for the Guardian. 
"James Joint": The track calmly starts with Rihanna saying "I'd rather be smoking weed," so you can probably guess what "James Joint" is about — if the title wasn't suggestive enough. It's a very short interlude on the album, and one that the artist had in her back pocket as early as April. Fans, however, wish it was just a bit longer.
"Kiss It Better": In what's essentially a throwback to hit pop ballads from the '80s and '90s, "Kiss It Better" features a hypnotic electric guitar riff and an extremely catchy chorus. "This song could easily blast out of a boombox, raised over a heartthrob's head in the climactic scene of a teen drama," Crissy Milazzo wrote for Teen Vogue. It's so catchy, in fact, perhaps it should've been released as a single. 
"Work" feat. Drake: The single was released just before the full Anti album was, so it's understandable that "Work" might not be receiving mountains of praise. After all, we haven't had enough time to let it process. "If you digested 'Work' with the hope that it would be mind-blowing or revelatory... well, then you're going to be bummed a little," Jason Lipshutz wrote for Fuse. "If you went in to 'Work' looking for a fun new Rihanna song, chances are that you're still humming it a few hours later."
Fans have been equally critical, with some calling it "repetitive" and a "massive disappointment." 
"Desperado": The track veers toward a dark, somber tone — with which Rihanna has been successful in the past — but the full effect takes a while to sink in. This is especially true if heard in the album's proper order, after "Work." However, "Desperado" is in part saved through Rihanna's moody, encapsulating vocals. "It never explodes, but 'Desperado' sports a pretty solid simmer," Lipshutz wrote for Fuse. 
Twitter was also quick to note that it shares the same title as Azealia Banks' song from her debut album, Broke With Expensive Taste. 
"Woo": "Woo" was apparently produced with the likes of Travis Scott and the Weeknd, and perhaps the reason the track falters is due to the number of creative minds tasked with its production. Sadly, "Woo" muffles Rihanna's vocals with an overwhelmingly heavy beat, though it might work better in a club setting with its uptempo melody. "It's quite short on memorable hooks, unless you count someone cooing 'woo, woo, woo' in the background like a drunken owl," Cragg wrote for the Guardian. 
"Needed Me": "Needed Me" is in the same tonal vein as "Woo," this time with the production quality of DJ Mustard. It does a better job of balancing the beat with Ri's vocals — at the very least, because she isn't muffled out of her own song — and its twitchy synth sounds beg repeated listens before coming to a conclusion. Furthermore, the lyrics are some of the best on the album. 
"Yeah, I Said It": If it wasn't already clear, Ri is really mixing a lot of genres in Anti. "Yeah, I Said It" takes the tempo down a notch — it's somewhere in between a slow jam and a midtempo track — but it still has a lasting effect. "There is a sensual, intimate quality to the song and the way Ri sings, as she assures a lover that there's no need to label their relationship," Mark Sundstrom wrote for Fuse. 
"Same Ol' Mistakes": It's a cover of a Tame Impala song, "New Person, Same Old Mistakes," and provides a glimpse into what Ri can bring to psych-rock — and really, rock ballads in general. "With her voice controlling the track, it's both trippy and introspective," Milazzo wrote for Teen Vogue. "Remember, y'all: She's not just pop."
For fans, the only issue is that she didn't provide enough to the cover, simply adding her vocals and not much else. 
"Never Ending": There's a folkish vibe to "Never Ending," which is clearly drawn from the influence of British singer Dido, who's credited as a co-writer for the track. Following "Same Ol' Mistakes," it's some of Rihanna's best alternative work to date, and if it wasn't already clear: Anti is a wide-ranging album. 
"Love on the Brain": It opens a bit like Beyoncé's "Superpower," but soon after "Love on the Brain" takes a personality of its own. It has Ri's trademark falsetto in full effect and gives off the catchy rhythm of a '50s track molded for the 21st century. "Featuring a loping, bluesy guitar figure, you can almost picture her leaning on a dusty bar, nursing a drink and looking for someone to tell her story to," Cragg wrote for the Guardian. 
"Higher": The penultimate track on Anti is more of an interlude — a brief, two-minute pause — one where Ri's focus is on whiskey, ashtrays and lovers loved and lost. "You take me higher! Higher than I've been ever been, babe/ Just come over, let's pour a drink, babe/ I hope I ain't calling you too late." 
"It's both sad and hopeful, triumphant and defeated," Milazzo wrote for Teen Vogue. "Strings add to the drama, giving you the emotion that's usually only reserved for Rihanna's social media." 
"Close to You": With "Close to You," Anti ends in a familiar Rihanna tune — smooth vocals on a simple piano ballad — as it's been closely compared to the mainstream hit "Stay" from her previous album, Unapologetic. "Rihanna's found a way to hop from turn-up jams to sexy midtempo bops to piano power ballads like this without losing credibility," Sundstrom wrote for Fuse. 
While not every song is a home run, it's evident Ri's not looking to shoehorn herself into a single style. Ultimately, it works as a microcosm of Anti as a whole: an album that's simultaneously familiar, while also bringing together new facets of her musical versatility.