Let's Take A Moment To Remind Everyone That Male Butt Play Is A Good Thing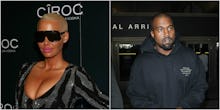 On Wednesday, January 27, 2016, a deeply significant yet rarely openly discussed topic had a brief moment in the spotlight: male anal play.
It all started when Kanye West decided to drag ex-girlfriend Amber Rose into his melodramatic Twitter beef with Wiz Khalifa, telling his nemesis that "you let a stripper trap you" and "I know you mad every time you look at your child that this girl got you for 18 years," referring to Rose's stripping past (of which she's not ashamed) and the son that she has with Khalifa.
All was quiet on the Western Front for about thirty minutes or so. Then Rose finally chimed in, detonating a salacious little truth bomb re: Kanye's sexual preferences.
He allegedly likes his asshole played with.
It may not have been the most dignified move to bring West's supposed predilection for anal stimulation into the discussion, but it's understandable why Rose did so (especially in light of her ex's near-obsessive slut-shaming). After all, male anal play is often thought of as a shame-riddled homosexual interest; accusing a man of being into it is a quick 'n easy way to summon the evils of society's ingrained homophobia to potentially shame a dude.
The stigma surrounding male anal play feels particularly silly when you consider that the prostate, aka the male "G-spot," is best stimulated by going two inches deep into a dude's b-hole. Naturally, G-spot orgasms can be a bit more intense than those that come from boring ol' penis play. In fact, a global sex survey from sex toy company Lelo last year found that prostate orgasms can be anywhere from "three to 10 times stronger" than penile orgasms.
Real dudes can vouch for this; a straight married man named Brian told Mic last year that he and his wife regularly incorporate ass play into their sexual escapades.
"For quite some time now I have made use of my prostate to facilitate orgasms," he said. "I find it has an enhancing quality to it and it makes my orgasms to feel much more intense."
And despite what all the homophobia and toxic masculinity in the world might have us believe, Brian's interest in this activity is completely independent of his sexual orientation.
"Pleasure during anal or prostate stimulation has nothing to do with sexual orientation," Sofia Jawed-Wessel, a sex researcher and professor at the University of Nebraska at Omaha, told Mic last June. "If a man finds prostate stimulation pleasurable, then wonderful — he's discovered something new to add to his sexual repertoire."
In the hip-hop community especially, anal play suffers from an insidious double standard. It's celebrated and revered when the woman is on the receiving end of it, such as when rapper Trick Daddy invented "National Eat-A-Booty Day" or when Nicki Minaj rapped about a dude who "tossed [her] salad like his name Romaine." But a dude's salad getting tossed? OMG, GAY. Just ask Drake, who has been gay-shamed in the past based on rumors of his interest in getting his booty eaten out.
Tyrone Palmer explored this phenomenon in 2014's "The Booty-Eating Renaissance," a Gawker article in which he further discussed the stigma attached to men receiving analingus in hip-hop culture.
"The openness of black male celebs talking about their love of tossing salad is refreshing, however, it is important to note that all of this talk of eating booty has been decidedly one-sided—'real niggas' eat booty, but do 'real niggas' get their booties eaten?" Palmer asked. "While ass eating seems to be becoming less taboo, being the male receptive partner of anilingus is a line too far to cross, and still very much read as 'gay.'"
With this in mind, it's easy to see why using the hashtag #FingersInTheBootyAssBitch would be an effective way for Rose to try to publicly humiliate West. But(t) still, let's use this as an opportunity to finally set the record straight: 
Male ass play is nothing to be ashamed of, no matter your sexual orientation. The sooner straight guys admit this, the quicker they can graduate to bigger and better forms of anal pleasure that will save their wives and girlfriends (hi, Kim Kardashian West!) from getting their manicured nails dirty.